MR Cool helps Promotes Community
Give us a call today: 559-255-1644
Donald P Dick Air Conditioning has a long standing relationship with the Fresno Area. Nearly 80 Years in the greater Fresno area has given us opportunities to affect the community in a positive way.
Some of the projects include: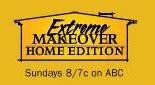 Extreme Makeover: Home Edition
Born without legs and only one fully developed arm, Mary Ann isn't a stranger to adversity. Mary Ann was placed in foster care at an early age and grew up in poverty and an unstable household. After getting married and having four children, she struggled financially and found herself on welfare. Despite her living conditions and disability, she was determined to lead an independent and active life while providing love and support to her four children.

Home of Hope
Granville Homes introduced the Home of Hope fundraiser in 2006 as a way of raising money to provide food, shelter, healthcare and education to those in need. Granville Homes along with the help of trade partners donated a beautiful brand new home complete with many luxurious upgrades as a grand prize for the 2008 raffle which will be awarded to one lucky winner on October 11, 2008. Participants will have the opportunity to win several other exciting prizes. Tickets may be reserved for $100. The Granville Home of Hope has raised nearly $1 Million for families since its inception two years ago.

Saint Jude
The 2008 Central Valley St. Jude Dream Home, built by major donor De Young Properties at the Brentwood Loma Vista community, was given away to lucky winner Lynn Brown of Coarsegold in the December 14th live television broadcast.
This year's event successfully raised $677,400 for a combined total with last year's giveaway of almost $2 million to help the kids of St. Jude fight cancer and other catastrophic childhood diseases. To read more…
Serving the Greater Fresno, CA Area
Do we serve your neighborhood?