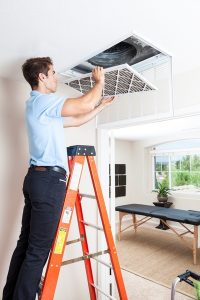 There are so many different parts in your air conditioner in Fresno, CA that are highly important but we want to make sure that you don't forget about your air filter. It is highly important too!
While often passed over when people think about what is going on with their air conditioner, the air filter can be something that plays a big enough role that it can make or break your system operation. If you haven't considered changing your air filter before now, or you didn't know that you needed to, now is the time to think about it. Let's discuss how changing your air filter is one of the easiest ways to ensure better performance from your AC system.
What Your Air Filter Is For
We want to clarify this because it is a common misconception. Your HVAC system air filter is not the same as a whole-house air filtration system. Where an air filtration system is made to keep dust and debris out of your house, the HVAC system's air filter is meant to protect your HVAC system from airborne particulates.
What Happens When Your Air Filter Sits For Too Long
Your system air filter is made to capture dust. It should get at least a little dusty! But if your air filter is kept in place for too long, it can actually get too dusty. After a certain amount of time, dust will build up so thickly on your filter that it actually starts to prevent the entry of air into your AC system. This will, of course, hinder your comfort and will increase the amount of energy that your AC uses to try to cool your home. If left for too long, a dirty air filter can even cause problems big enough to create repair needs to the system.
When to Change Your Air Filter
Changing your air filter is highly important to keep your air conditioner working effectively and efficiently. While our experts can help with air filter changes during your annual maintenance appointment, this isn't the only time that you should check and change this system component though.
We would advise checking your air filter on a regular basis, about once a month. This can help you more easily detect if and when you need to change a dirty filter. Aside from this, make a habit of changing your filter every one to three months. This is can help prevent too much build-up from collecting on the filter and hindering the airflow in your unit.
What If I Have a Reusable Filter?
A small sidenote for those who have reusable filters in their home, you still need to check and clean your filter as frequently as you would change a disposable one. Make sure to follow your filter's directions to properly clean it.
If you need help with your air filter change, or you need a  bigger AC repair, you can rely on our team.
We strive to provide honest answers and solutions to the problems our customers experience while remaining highly competitive in price, and offer the fastest turnaround you can find! Schedule your next AC service with Donald P. Dick Air Conditioning.