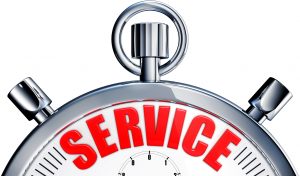 In our last blog post, we wrote about signs to watch for that indicate your air conditioner is in need of professional repairs. We want to emphasize something about those repairs: you can't wait around to have them done "someday." Even if the problem doesn't seem like it's urgent—you're still receiving cool air, the family is comfortable—it's always better in both the short and long-term to have any air conditioning repairs in Visalia, CA done as soon as you can get professionals on the job.
There are a number of good reasons why prompt AC repair is a must:
Risk of a full breakdown: Any air conditioning system that's operating with a malfunction is at a higher risk of leading to a complete system shutdown. The stress from a single repair is often enough to lead to the AC refusing to work at all. This is especially true of a problem like refrigerant leaks, which can cause the compressor to fail… and that usually means having to replace the entire air conditioner. You don't want to be trapped with a failed cooling system during a roasting late summer day California!
Higher utility bills: When an air conditioner has to run while there's something wrong with it, the AC will drain more energy than usual. That means paying more on your utility bills than you should. Prompt air conditioning repairs put a stop to energy waste.
Longer system life: What causes an air conditioner to run down and need to be replaced earlier than necessary? Extra strain and wear—and that's exactly what repair issues left unattended will create. Arranging to prompt air conditioning repair will help your AC return you original investment in it with a long service life.
You can rely on our seasoned professional technicians to take care of your comfort with air conditioning repairs done right and done fast.
Donald P. Dick Air Conditioning: We strive to offer the fastest turnaround you can find!