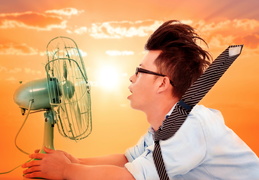 To answer the question posed in the title of this post very quickly: to save energy, reduce cooling costs, and live even more comfortably while doing so. Now, we know that this may sound too good to be true, but we are here to tell you that simply upgrading your thermostat in Hanford, CA can actually offer you such major benefits.
Just remember that, while a thermostat may not seem all that complex, only trained professionals can guarantee that your new thermostat is installed properly and integrated into your AC system at large correctly. Don't waste your money on a new thermostat if you are not going to schedule the quality services that that thermostat needs to excel in its operation. Work with us, and you need have no such concerns.
Choose Programmability
At the very least, you should be using a digital thermostat to control your air conditioning system. Old dial thermostats or those with slide controls are notoriously inaccurate. That makes it tough to set the temperature that you really want, and fiddling with the thermostat will result. This, in turn, leads to wasted energy and unnecessary strain on the air conditioning system.
With a programmable thermostat, you take digital technology further. Not only do you get simple to use push-button controls and easy to read digital interface, but you can create cooling programs based around your own schedule. That allows you to maintain more moderate temperatures throughout the day while still coming home to a very comfortable home at night.
Wi-Fi and Smart Technology Is Available
These days, everything is all about convenience. With a wireless thermostat, you get more convenience than you've previously had. In fact, you'll never even have to get out of bed to adjust the temperature on a particularly warm night again. A central receiver is wired into the HVAC system, but the thermostat itself is wireless and can travel the house with you. This allows it to more accurately reflect real temperatures in the house, and makes it an ideal replacement for those thermostats installed in less than ideal locations.
If you really want to take your temperature control experience to the next level, though, we strongly suggest that you consider smart technology. A smart thermostat is internet-enabled, meaning that you can control your HVAC system even when you are not at home. You won't ever have to worry about whether or not you remembered to adjust the thermostat before the leaving the house again.
Plus, you can access energy reports to review your energy usage, which gives you the information that you need in order to change your habits to further boost energy savings. Many smart thermostats also have learning modes, which means that they can learn your cooling habits over time and begin to automate the regulation of your air conditioning system.
We strive to provide honest answers and solutions to the problems our customers experience while remaining highly competitive in price, and offer the fastest turnaround you can find! Schedule your thermostat services with Donald P. Dick Air Conditioning.