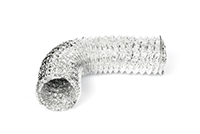 Dryer maintenance seems fairly easy — just clear the lint from the lint trap after every use. But what about your dryer vent? Over time, lint can accumulate here too. And if your vent isn't properly cleaned, this accumulation can ignite and cause a fire.
The Importance of Cleaning Dryer Vents
Not cleaning dryer vents is actually the number one cause of house fires. It's also completely preventable. Some people do it themselves, but it's generally better to call in an expert to clean the vents for you, as they have special tools and equipment for the job. In fact, it's something your HVAC technician can do as part of your annual maintenance visit.
After disconnecting the dryer from both the gas and the power, your technician will slide the dryer forward and remove any lint buildup from the dryer hole using a vacuum cleaner and other special equipment. Some people try to clean the dryer tubing with a coat hanger, but this can puncture the tubing if you're not careful. Afterwards, he'll do the same thing to the outside dryer vent. Then, after running the dryer on "air dry" for a few minutes, any remaining lint should be cleared out.
Signs of a Clogged Dryer Vent
There are several ways you can decrease your dryer's lint buildup. For instance, use fewer dryer sheets, run your dryer for shorter intervals at a time and always clean the lint trap after every use. Here are a few signs you're due for a cleaning:
Clothes are coming out damp or take far too long to dry.
The dryer or your clothing seem unusually hot after the drying cycle.
The dryer vent flap doesn't open properly.
The dryer room has a musty or burnt smell.
The lint trap accumulates significantly more lint than usual.
It's been more than a year since your last vent cleaning.
For more help with cleaning dryer vents, contact Donald P. Dick Air Conditioning in the Fresno area.
Our goal is to help educate our customers in the greater Fresno, California area about energy and home comfort issues (specific to HVAC systems). For more information about dryer vents and other HVAC topics, download our free Home Comfort Resource guide.
Credit/Copyright Attribution: "JIPEN/Shutterstock"