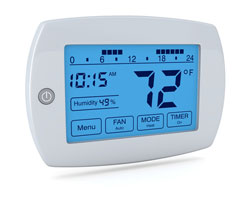 Some energy efficiency home upgrades are really just changes in your habits, like setting back the thermostat when you're asleep or away from home. But habit changes can be a hassle, which is why upgrading to a programmable thermostat is a smart move. It takes the hassle out of resetting your thermostat multiple times of day, making it much more likely that you'll stick with it.
How to Maximize Your Programmable Thermostat
If you've made the switch from a manual thermostat to a programmable model, use it right by following these guidelines:
Set the thermostat back for long periods of time. A couple eight-hour blocks over the course of the day, like when you're at work and when you're asleep, will deliver a noticeable impact on your energy bill, while several small hour-to-hour switches won't net you much in savings.
If your schedule changes temporarily, don't reprogram the thermostat. Instead, use the override feature to change the temperature set point until the next scheduled switch or the vacation hold feature to set the thermostat back and then resume normal operation after a period of days.
Set the thermostat to the temperature you want. Cranking the thermostat doesn't cause the temperature to change faster. It only makes it more likely that your home temperature will overshoot a comfortable range. If you want to schedule a time for your home to reach a set temperature rather than a time for your HVAC system to engage, look into smart thermostat technology.
To maximize your home comfort and minimize your energy use, combine your programmable thermostats with a home zoning system. This will allow you to selectively heat and cool zones of your home, such as bedrooms and living areas, depending on when your household uses them.
If you want to get the most out of the programmable thermostat in your Fresno home, let Donald P. Dick Air Conditioning help! We're happy to answer any questions you may have.
Our goal is to help educate our customers in the greater Fresno, California area about energy and home comfort issues (specific to HVAC systems). For more information about programmable thermostats and other HVAC topics, download our free Home Comfort Resource guide.
Credit/Copyright Attribution: "lucadp/Shutterstock"