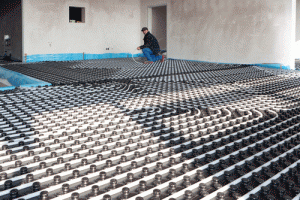 Of the various methods of heating your home, radiant flooring is likely the most efficient and consistently comfortable. Instead of warm air blowing haphazardly from vents near the ceiling, it provides a steady warmth rising from the floor consistently throughout the house. It offers a number of benefits, such as cleaner indoor air and reduced energy costs. There is no ductwork to leak or get dirty.
Based on the simple principle that warm air rises, radiant floor heating can be divided into three basic types: air-heated, in which hot hair is circulated from beneath the floor; electric, which is a system of cables in the floor; and hydronic, which pumps water heated in a boiler through tubes in the floor.
For home use, hydronic radiant flooring is the most popular. Because of the cost of installation, most homeowners will not find it financially feasible to retrofit such a system in an existing home, unless they are opting for major renovations. If that is the case, or if your are building a new home, hydronic radiant flooring may be a viable choice.
Other considerations are your choice of floor covering. Ceramic tile functions best over radiant flooring as it conducts and holds the heat well. Thick carpet creates an insulating layer between the heat source and the room, decreasing the efficiency of the system significantly. Light carpet and laminated wood floors may work well, but solid wood may crack from the heat.
The best way to determine whether radiant floor heat will work out well for you is to consult the experts. The professionals at Donald P. Dick Air Conditioning can help you select the best heating system for your home. With 80 years of experience in heating and air conditioning, you can't ask for better service and advice in the Fresno area. Contact us online to schedule service or give us a call at 559-400-8929.
Our goal is to help educate our customers in the greater Fresno, California area about energy and home comfort issues (specific to HVAC systems).
Credit/Copyright Attribution: "Muellek Josef/Shutterstock"