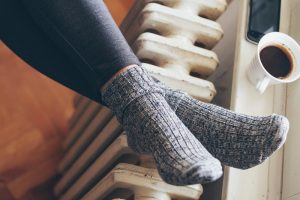 We may not see the below-zero temperatures that some other areas do during wintertime, but it still gets cold in Fresno at this time of year. And when the weather gets chilly, it pays to have a good heater in your home to keep things warm and comfortable.
The question that you might be facing now is which type of heater you want in your home. There is more than one kind of heater out there. Knowing your options can help you feel a lot more prepared when the time comes to schedule an installation for your next heater.
So, let's take a look at one of the bigger questions you need to answer: do you want a radiant heater or a forced-air heater?
What You Should Know About Radiant Heaters
If you aren't familiar with radiant heaters yet, we'd like to give you a quick overview of what they are, how they work, and why so many people love them.
Radiant heaters usually use water to get the job done. By heating up water that is then circulated through the home, allowing the radiant heat carried in the water to transfer into the home. Radiant heaters provide powerful heat that is often compared to the feeling of sunlight warming up a room.
Hydronic-type radiant heaters usually combine a boiler with radiators, radiant baseboards, or even radiant floorboards.
What You Should Know About Forced-Air Heaters
There is a chance that you are familiar with forced-air heaters as they are found in a large number of homes throughout the country. Forced-air heaters are going to heat up a steady flow of air and distribute it throughout the home.
Forced-air heaters use duct systems or air handlers to distribute warm air through the home. While a radiant heater may feel like radiant sunlight, a forced-air heater feels like a warm breeze through the home.
Types of forced air heaters can include furnaces, which create hot air through burning gas or electrical resistance, and heat pump-type systems that create heat through heat transference. Modern forced-air heaters are highly effective and efficient.
Choosing your heater
Knowing a bit more about the types of heating systems available to you can help you narrow down your options. For example, if you know you don't have ductwork, you might opt for a ductless heat pump to keep your home warm. Or you may even consider a radiant heater if you can afford the installation of the piping through your home. The key is choosing the type of heater that works best to meet your needs.
Not 100% sure which heater to select? That's okay because our team can help assess your home's needs and determine which options are best for you! Whether you are looking to install a radiant heater or a forced-air heater in your home, you can trust our team to provide whatever HVAC service in Fresno, CA you need.
We strive to provide honest answers and solutions to the problems our customers experience while remaining highly competitive in price, and offer the fastest turnaround you can find! Schedule your appointment with Donald P. Dick Air Conditioning today.