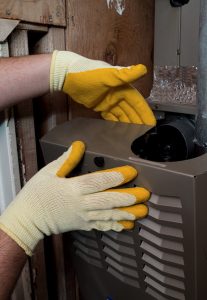 No, our heating season is not as intense as the hot summers are. That does not mean that you should be taking any chances with your home heating system, though. You may not rely on your heater as heavily as you do your air conditioning system, but you are still going to need it to be there for you whenever the temperature drops below comfortable levels. And the only way that you can count on your heater is if it is properly maintained.
No, you cannot tune up your heating system on your own. No, it does not matter if you download a "maintenance checklist" from the internet. After all, even if that is a thorough and complete checklist, which is highly unlikely, you are still not going to have the skill and expertise needed to do the job the right way. We do, though, so take advantage of the benefits that professional heating maintenance in Fresno, CA has to offer.
You'll Heat Your Home More Efficiently
Regardless of how much or how little you may run your heating system around here, the fact of the matter is that you really do not want to overpay when doing so. Even mild temperatures can lead to seriously high energy costs when you're running a poorly maintained heater. Annual maintenance is a must if you are serious about protecting heater efficiency.
Over the course of just a single heating season, your heater can suffer quite a bit of wear and tear. If you do not schedule a tune-up to address that wear and tear, then you are going to suffer the consequences. Decreased efficiency is sure to come you're way—but it does not stop there.
You'll Heat Your Home More Reliably
Even relatively mild winter weather is going to feel a lot less comfortable than it otherwise would if your heater is not up and running at peak performance levels. When the heater is not up and running at all, of course, things get even less comfortable. This is the fate that you tempt when you fail to schedule your annual heating tune-up.
A heater that is not well-maintained is simply never going to be as reliable as a heater that is tuned-up annually. The wear and tear that the system suffers needs to be addressed and any problems resolved in order to heat your home successfully. Don't waste money on repairs that could have been avoided, especially as you are forced into discomfort until they're completed.
You'll Get a Better Lifespan
When our technicians have the chance to inspect your system and to tune it up regularly, they not only help to prevent future problems from developing. They're able to catch existing issues early on and can prevent them from damaging your system.
Schedule your heating tune-up with 
Donald P. Dick Air Conditioning. 
We strive to provide honest answers and solutions to the problems our customers experience while remaining highly competitive in price, and offer the fastest turnaround you can find!