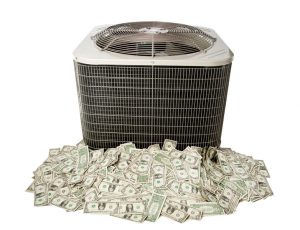 Things are starting to heat up. These are something like the warm-up laps for your air conditioner before the big marathon. While you aren't going to have to rely heavily on your AC yet, now is the ideal time to double-check to make sure that your system is operating right.
If your system needs air conditioner repairs in Fresno, you'll want to make sure to schedule an appointment with a technician as soon as you can. Schedules fill up as the temperature rises and we want to make sure that you get the service you need!
5 Warning Signs That Your AC Needs Repairs
When your air conditioner starts to exhibit warning signs like these, you should reach out for repairs from our team.
1. You are paying more than usual for your energy bills.
Using your air conditioner will impact your energy usage. That really isn't going to be a surprise. What could be a surprise is just how heavily your energy bills are impacted. Large spikes in your monthly bills may indicate that your AC is using extra energy to compensate for a repair need.
2. There is a reduction in your ability to cool your home.
Have you noticed that, no matter what temperature you set the thermostat to, it seems like you aren't getting any reliable cool air? If so, you may have an air conditioner that is struggling to produce any form of cooling for your home. It could be a dirty evaporator coil or something else causing the issue. Whatever the cause, make sure to have a technician check the system out.
3. There is less air flowing out of your vents.
Your air conditioner is running but it seems like there is barely any cool air getting in the house. Weakened airflow from the vents in your home is a problem for more than one reason. If you notice that the issue stems from just one vent, it may indicate issues in your ductwork. If it is impacting all of the vents, you may have a bigger issue that requires the help of a professional.
4. You hear concerning noises from your system.
If your AC unit is starting to make some new, somewhat concerning sounds, it is worthwhile to give your expert technician a call. Sounds such as rattling, clanging, hissing, bubbling, and screeching are all problematic. While these noises can have different causes, the main solution to all of them is professional repairs.
5. Your air conditioner is short cycling.
Last but certainly not least, contact a pro as soon as you notice any sign of short cycling in your AC. This term is used to describe shortened cooling cycles that are unable to finish due to some issue in the system. Short cycling can easily lead to a breakdown so make sure to address it ASAP.
Contact Donald P. Dick Air Conditioning to schedule repairs today. We strive to provide honest answers and solutions to the problems our customers experience while remaining highly competitive in price, and offer the fastest turnaround you can find!