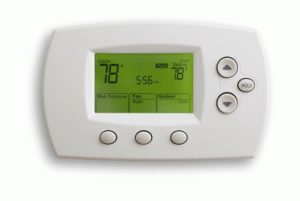 You wouldn't be able to play a video or computer game without a controller or a mouse and keyboard. There would be no way to translate what you wanted your character to get done! Similarly, you can't operate your air conditioner without a working thermostat. 
Thermostats are the brains of your home comfort operation. A good Fresno thermostat can help you enjoy the best possible control of your home's temperature. A bad one can undercut your comfort and your energy efficiency.
If you are wondering how you can figure out whether or not you have a bad thermostat that needs to be upgraded, we've provided some guidelines to help you figure it out.
The Signs Your Thermostat Needs to Retire
No thermostat lasts forever. However, you don't want to repair a thermostat that could still serve you well for several more years. Here are some indicators that you need to retire and upgrade your current thermostat:
You've replaced your AC or heater but not your thermostat: Whenever you replace one comfort system in your house you will want to upgrade your thermostat as well. You don't want to pair an older thermostat with a newer HVAC system. This is because an old thermostat can undercut the efficiency of your new system!
Your thermostat is between 10 to 15 years old: The same way that your heater or AC has an ideal serviceable lifespan so does your thermostat. If you have a thermostat that is between 10 to 15 years old, it is a good idea to replace it before it becomes completely unreliable.
You can't get an accurate temperature reading: Is your thermostat getting the temperature reading right? If you are noticing that your thermostat is off by 5° or more, then you absolutely need to have your thermostat checked out. It may need to be miscalibrated but there is also a chance you need to upgrade it.
The thermostat has a delayed response or no response at all: When you turn on your thermostat, it should provide a prompt response to you. If you notice that your thermostat has a delayed response or has absolutely no response at all, it is time to contact a technician.
Your thermostat changes its temperature setting unprompted: Lastly, make sure to have a technician assess your thermostat if it seems to have developed a mind of its own and is changing its temperature on its own.
Your Next Thermostat Options
Let's say that you have noticed that you need a new thermostat, it can be a good idea to learn a bit more about your options for your next system. Smart and Wifi thermostats are becoming more popular across the board because they offer better control over your comfort and can help you maximize your energy efficiency too. You can learn more about these options when you talk to your technician about whether or not you need a new system.
We strive to provide honest answers and solutions to the problems our customers experience while remaining highly competitive in price, and offering the fastest turnaround you can find! Contact Donald P. Dick Air Conditioning to schedule an appointment.