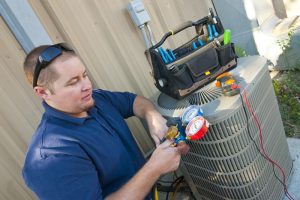 When you think about what can go wrong with your air conditioning system, do you ever consider your refrigerant levels? There are times that people may think they need a refrigerant refill but this isn't actually something you should need unless there is a serious problem in your AC system.
Some people think that their refrigerant is going to get "used up" over time when this isn't at all how the air conditioning unit works. You are only going to encounter low levels of refrigerant when there is a leak in your refrigerant line which is an air conditioner repair in Fresno that you will want to address quickly for the sake of your comfort this summer.
How You Might Get a Refrigerant Leak
Refrigerant leaks are something that can happen to just about anybody. Your system can wear out and start to develop issues like refrigerant leaks simply due to the impact of regular wear and tear. You may develop a refrigerant leak due to:
Vibration in the system that causes part of come loose
Joints or connections in the system that can weaken and start to leak
The Signs of a Refrigerant Leak
If you have a refrigerant leak in your air conditioner the sooner it is resolved the better off you will be. To get your refrigerant leak taken care of, you need to know what the warning signs are. Watch out for these indicators of trouble with your AC system:
No cool air coming from your AC: If your air conditioner is running but isn't producing any cool air, it is likely you have a refrigerant leak which is making it hard or impossible for your system to pull heat out of the air.
Your system isn't turning off or it is short cycling: Your AC system may start to short cycle, which is the process when your unit doesn't finish its regular cooling cycle, or it may seem to run continuously. In either case, this may be caused by refrigerant leaks leading to your AC struggling with its cooling cycles.
Increasingly high energy bills: If your air conditioner is low on refrigerant it is going to start working a lot harder just to try to produce the cool air you are looking for (but it likely won't be able to do this well even with the extra effort.) This will lead to very high energy bills that you may be surprised to see at the end of the month because your home is still so uncomfortable.
The Difference a Professional Makes
Whether your air conditioner needs to have a refrigerant leak repaired or a fan blade fixed, the professionals at Donald P. Dick Air Conditioning. When you get these repair services done by professionals rather than by an amateur it is going to help your AC work much more effectively and increase its lifespan.
We strive to provide honest answers and solutions to the problems our customers experience while remaining highly competitive in price, and offer the fastest turnaround you can find! Contact Donald P. Dick Air Conditioning to ensure your comfort this summer.