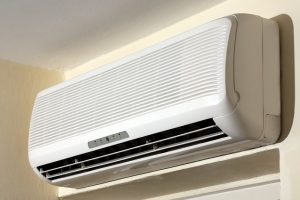 California is not one of the states that you want to be in without an air conditioner to keep you cool in the summer. This is especially true in areas like Fresno which are known to have brutal heatwaves during the summer. If you are looking to replace an outdated air conditioner or upgrade to a new system,  we would love to give you some guidance. Upgrading to a new and more energy-efficient system is a great idea but you want to make sure that you are getting the system that is right for you.
For now, we want to address the option of choosing a ductless AC for your next system. These are certainly great options but the question is whether it is the best choice for your home. We'll discuss what might make a ductless unit a good match for you below.
How Ductless AC Units Work
You may be a little taken aback by the idea of an air conditioner that doesn't use ductwork to do its job. How is it possible? Let us explain.
A ductless system is a mini split style system. The key differentiator, in this case, is that one outdoor unit is attached to multiple air handlers. Connected through multiple conduits that handle refrigerant flow and condensation disposal, the air handlers are able to cool the air in the rooms they are in.
The Perks Of Ductless Units
So you know how unique the setup of your ductless system is. But how does that make it beneficial? We have some key perks to tell you about that come with the installation of a ductless AC.
They use far less space. Because ductless systems use air handlers instead of a larger indoor unit they take up far less space than a central system would. They also save space because they do not require the use of ductwork.
They are perfect for older or smaller homes.  Older homes were not always built to accommodate ductwork. This can make them hard to cool down because options are limited period the same goes for smaller homes that aren't able to fit ductwork within them. For both smaller and older homes that cannot accommodate ducts, a ductless system is a great match.
They are highly efficient. When it comes to air conditioners you always want an efficient unit. Thankfully ductless air conditioners while unique are always going to be well known for being energy efficient. In this regard, they will never break the status quo.
They are able to both cool and heat your home. Ductless systems are heat pumps which means they have the ability to both heat and cool your home. That makes them ideal for anyone in need of both a cooling system and a heating system.
Whatever system you choose, make sure to have a professional technician be the one to perform your air conditioning installation in Fresno, CA. Every team member at Donald P. Dick Air Conditioning can provide reliable and effective AC services.
We strive to provide honest answers and solutions to the problems our customers experience while remaining highly competitive in price, and offer the fastest turnaround you can find! Contact Donald P. Dick Air Conditioning today to get your AC upgrade started.