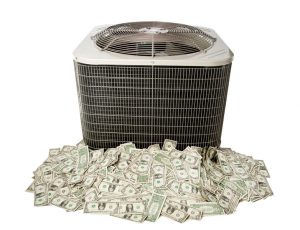 There are a lot of areas in the country where homeowners are already starting to brace themselves for the chill of the winter season. Around here, of course, there is still a decent amount of heat left to come. That is why any problems with our air conditioning systems, even this late in the calendar year, are of such concern. Now, this begs the question of when is enough enough? When is air conditioning repair in Visalia, CA no longer justified?
If your answer is "When it breaks down completely, duh!" then:
A. That's a bit rude and
B. That's actually the wrong answer.
Ideally, you'll have your air conditioner replaced with a new system before it ever has a chance to break down entirely. This means making some tough decisions and facing some tough truths in regards to your AC, though. Read on for some tips in helping to decide if your AC is still worth repairing.
How Are Your Bills Looking?
Have you noticed that it is costing more and more to cool your home each summer? Is this in spite of the fact that you always schedule prompt repairs? That your ducts are definitely sealed up tightly? That routine maintenance is always a priority? If so, then you may want to replace your system in order to take advantage of improved efficiency.
It's possible that your formerly efficient system has simply lost some of its capacity for efficiency over the years. Maybe you inherited a relatively inefficient system with your home. Or perhaps you skimped on efficiency when purchasing your system to save money. Whatever the case, money spent on a more efficient air conditioner is money well spent!
What's the Performance Like?
Well, it's not great. The system's not that reliable. But for the most part, it gets the job done. 
Do not settle for a cooling experience that does not meet your deservedly high expectations. After all, you depend upon this system throughout much of the year to keep your living space comfortable. You wouldn't trust a car that would probably do a decent job of getting you to work in the morning, would you? If you are not happy with your AC because it is unreliable, or if it just is not cooling your home effectively throughout, then you should consider a replacement that will serve you better.
Is It the System You Want?
This is the one that homeowners sometimes balk at. Certainly, we wouldn't suggest that you replace your AC just because it is not the type of system that you'd choose to use today, given the opportunity to do it all over, right?
Well, yes, in fact, we are!
Like we said, that air conditioner is going to be running and running hard throughout much of the year. If you are serious about your cooling satisfaction, then you need a system that aligns with your own personal user preferences. That is more than enough reason to consider a replacement.
Schedule your AC replacement with Donald P. Dick Air Conditioning. 

We strive to provide honest answers and solutions to the problems our customers experience while remaining highly competitive in price, and offer the fastest turnaround you can find!