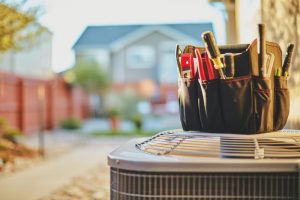 While the hottest time of the year may well be behind us at this point, that does not mean that you don't need your AC to continue cooling your home for some time to come. The cool fall weather that is already arriving in certain parts of the country is not so quick to show up around here. That is why, even this late in the year, you really cannot ignore any signs of trouble with your air conditioning system.
As we have said before, and just as we will certainly say again, early intervention is key when successfully dealing with air conditioning problems in Clovis, CA. When you notice any signs of trouble with your air conditioner, you want to have them addressed ASAP. To do so, of course, you first need to learn to recognize the warning signs of trouble to begin with. No problem is minor enough to ignore when it comes to your home cooling system, so contact us for AC repair services right away.
There's Not an Orchestra in There!
And if there were, that cacophony doesn't really sound like music, right? Okay, so maybe the problem is not that bad. However, your air conditioner doesn't need to be heard a block away to mean that it's in trouble. It doesn't matter if operating sounds are much louder than usual, or if they're just new sounds—any such irregularities suggest serious problems.
From loose components to insufficient lubrication, you could be dealing with any number of issues that will leave your AC functioning at lower levels than usual. Ignoring audible warning signs will only give the problems causing them the time that they need to cause more damage!
That's Not Cool!
Does your air conditioner blow warm air? Check the thermostat before doing anything else. In many instances,  the problem may simply be that the thermostat was adjusted incorrectly. Sometimes heat pumps are switched over to heating mode, or maybe you've just got the AC's fan running. Whatever the case, you don't need a pro to adjust your thermostat.
Of course, you could also have leaky ductwork. Or a low refrigerant charge. Heck, your AC could even be too small to do its job successfully in your home! Whatever the case, our technicians are the ones that you want to guarantee that the problem is diagnosed accurately and resolved completely.
That's too Steep!
Is it suddenly costing you more and more to cool your home? If your home has not changed, and your cooling habits have not changed, why would you see a noticeable spike in your cooling costs? The unfortunate fact of the matter is that problems with your AC system could be to blame. Fortunately for you,  we are here to help.
We cannot help you to cool your home for free, mind you, but eliminating problems with your system through professional air conditioning repairs will help you to cool your home more efficiently. Keep your money in your bank accounts while living more comfortably, and let us know if rising cooling costs are leaving you hot under the collar!
We strive to provide honest answers and solutions to the problems our customers experience while remaining highly competitive in price, and offer the fastest turnaround you can find! Schedule your AC repairs with 

Donald P. Dick Air Conditioning.