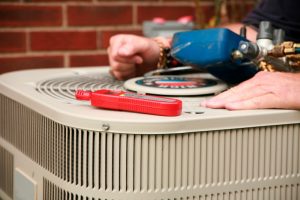 If you have read our blog before, then you have no doubt seen us touting the virtues of professional air conditioning maintenance. So why are we bringing it up again? Because a new cooling season is upon us, and some information simply bears repeating. At the end of the day, the facts are clear. If you want to get the most efficient and effective performance possible from your air conditioner, then you need to schedule annual AC maintenance with qualified technicians.
Another benefit of routine maintenance is that it keeps the need for air conditioning repair in Visalia, CA at bay. Now,  it is important to note that you cannot expect your air conditioner to work with 100% reliability. That simply is not possible. However, you can expect your air conditioner to function as reliably as possible when it is properly maintained. By scheduling service with the pros on our team, you'll be able to cool your home with well-earned confidence. 
Does It Really Work?
Yes, it really does. There are instances in which problems with your air conditioning system will seemingly develop out of nowhere. However, the truth is that most problems that homeowners run into with their ACs gestate for quite some time before coming to a head. This is a major part of why routine maintenance is so necessary. It not only helps to prevent new problems but developing, but it also gives your AC maintenance technicians the opportunity to surface problems already in development, catching them and resolving them before they can do serious damage to your system.
But Can't I Just Do It Myself?
No, you cannot. This is not to say that there is nothing that you can do in order to help protect your system through regular maintenance. You can clear yard debris off of the outside unit, for instance. You also can and should change the air filter as needed, which is typically every 1-3 months. However,  there is much more to routine maintenance than this, and most of it requires the skill and expertise that only professionals possess.
When we tune up your system, we'll test all electrical components, voltage/amperage, capacitors, thermostats, etc. We'll check your refrigerant charge, and we'll lubricate moving parts as needed. This is all in addition to the deep clean of the system that we'll complete, as well. That means that your system will be in peak working condition, and that means more than just great reliability: it means that you'll get the best that your system has to offer, all summer long.
Protect Your AC This Summer Season
Over the course of the summer months, your air conditioner is going to do a lot of work. That will result in a lot of wear and tear. You don't want to force your system right back into action following a season of inactivity. You wouldn't run a marathon one year, not train all year following that marathon, and then expect to race across the finish line at the next one, right? Of course not. Let us get your system back in shape so that it carries you across the cooling season's finish line comfortably.
Donald P. Dick Air Conditioning—We strive to provide honest answers and solutions to the problems our customers experience while remaining highly competitive in price, and offer the fastest turnaround you can find!