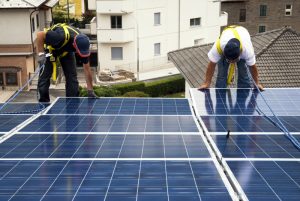 If you subscribe to the old adage that variety is the spice of life, then right now is a very spicy time to be alive indeed! Whatever project you are looking to complete around the house, it seems like there are more and more options to consider now than ever before. This is certainly the case when it comes to how you choose to heat and cool your home. Did you realize that you have options when it comes to how you power your home too, though?
Solar energy systems are definitely more popular than ever, and today we are going to look at why that is. After doing so, you may just start to realize that a solar energy system is right for you. The great news is that reading this means that you have already found the company to work with when you decide to take the plunge and install solar panels in Fresno, CA—along with the rest of the equipment that a solar energy system requires.
Rebates!
We know that money talks, and while we are not going to buy your loyalty or pay you for our own services, we can help you to save some money in the form of rebates. In fact, right now we are offering a $300 rebate on solar panels! There is a lot to recommend the use of solar panels on your property, but getting cash back from investing in them is definitely a major incentive.
You should also explore other financial benefits of investing in solar energy systems, including tax breaks. As this type of technology grows in popularity, a lot of cost-saving perks have been put into place. Keep up to date with what's available in your area by working with knowledgeable and experienced solar power professionals.
More Savings!
While rebates on the purchase of solar panels and tax benefits are certainly enticing, you definitely should not overlook the main way in which you'll save money by investing in solar panels—which is simply by using them! With solar panels, you are able to make use of a resource that literally beats down on you every day: the sun's solar energy!
Electricity is expensive. You use a lot of it to keep the lights on in your home and the AC running throughout the hottest time of the year. When you use a solar energy system—and even selling back the energy that you don't use—you'll be able to keep more money in your budget.
Environmental Benefits
For a lot of people, the energy savings and rebates are what will ultimately lead them down the road toward solar energy use in their homes. That doesn't mean the only benefits are financial, though. There are also environmental benefits to consider.
If you are interested in moving away from electricity and fossil fuel consumption, then using solar energy to power your home and keep your systems functioning is a great way to do so. You don't have to sacrifice comfort and convenience to do your part for the environment any longer!
Schedule your solar services with Donald P. Dick. We strive to provide honest answers and solutions to the problems our customers experience while remaining highly competitive in price, and offer the fastest turnaround you can find!