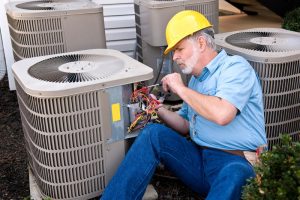 You may not have much cause to meander past your indoor air conditioning unit all that often, depending upon its location in your home. You should be in its direct vicinity at least on a monthly basis, however, because you need to change its air filter at least that often. So what if you are passing by your unit, and you notice that it is surrounded by water? What would you do in that instance? Assume that you have a water leak and call a professional plumber?
Well, the problem with this is that air conditioning systems do not actually use water in their efforts to cool your home. They do not have a water tank of any kind, nor are they fed water for any purpose. So—where the heck is this water coming from? And should I be concerned? The short answers to these questions are frustratingly vague. There are a few potential problems that could be behind it and: maybe. So let's take a closer look at the issue, and help to determine if you need professional air conditioning repair in Hanford, CA.
The Source of the Water
If you see water surrounding your air conditioning unit, you may want to check that there are not leaky pipes or anything in your home. If that AC unit is in or right around the lowest point of your home (or that level of your home) then plumbing leaks could actually lose water that accumulates in that area. That being said, the source of the "leak" is very likely your AC itself, and the water itself is likely condensation.
Why Is There Condensation?
Your air conditioner is not a dehumidifier. If you struggle with very humid air in your home, then we strongly recommend that you invest in a whole-house dehumidifier in order to remove that excess humidity from the air in your home. That being said, your air conditioner does have a dehumidifying effect of some level on the air that it cools.
As refrigerant evaporates in the indoor evaporator coil, moisture is drawn out of the air being cooled in the process. That moisture condensates right on the evaporator coil. This condensation has to go somewhere, so it drips off of the coil and into the condensate drain pan. A condensate drain line then removes the accumulated water.
Why It's Leaking
First of all, the condensate drain pan may simply be misaligned. Lining it up properly can solve the problem in such cases, though it will need to be replaced if the pan has rusted through.
There is also a chance that your condensate drain line is backed up/clogged. This could be the result of algal growth. If this is the case, cleaning it out with a vinegar or bleach solution may do the trick, along with vacuuming it out with a wet vac.
However, you could also have ice melting off the evaporator coil that is just overwhelming the drainage system. If your coil is freezing up, it could be due to a very dirty air filter. If that doesn't seem to be the case, definitely give us a call. You could have a refrigerant leak, and those demand immediate air conditioning repair services.
Schedule your AC services with Donald P. Dick Air Conditioning. We strive to provide honest answers and solutions to the problems our customers experience while remaining highly competitive in price, and offer the fastest turnaround you can find!