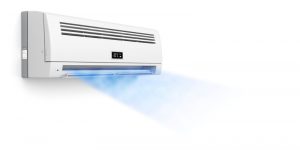 Temperatures are really starting to warm up now, and the hot days of summer are drawing closer. That's good news for the countless residents in our area that have been patiently waiting for the season to start. It may not be that great of news for homeowners without great air conditioners ready to jump back into action, though. If you are installing a new AC in a new property, or if you need to replace an old, ineffective air conditioner, you should consider going ductless.
Ductless air conditioners in Fresno, CA have surged in popularity in recent years. When you consider all that ductless air conditioning has to offer, this really should not come as much of a surprise. When expertly installed and serviced, there are a lot of different ways that a ductless air conditioner can benefit you. Here are a few reasons why you should consider going ductless with your next AC system.
They Save Money
The first thing that you may notice when reviewing your various air conditioning options is the fact that ductless mini splits have higher price tags than traditional central air conditioners do. However, you should not let this dissuade you from seriously considering the use of a such a system. While the initial cost may be on the higher side, a ductless air conditioner can actually help you to save  money over time.
This is largely due to the elimination of air ducts from the equation entirely. If you have a ductless mini split, there is no chance of energy loss via leaks in the ductwork. This is one of the most common ways in which energy is wasted when cooling a home. Because there are no air ducts at all, you won't have to worry about hidden leaks wasting energy that you've already paid for.
They Give You Control
A zone control system can be integrated into a forced air AC system, but it is an upgrade or a retrofit. With a ductless mini split system, zone control is simply an inherent part of the overall product. This is because the various ductless blowers are all controlled independently of one another with their own thermostats.
Not only does this mean that you can live more comfortably, cooling those areas of the house that you choose only as much as you choose, but it also helps to scale back energy costs. If you can live in greater comfort with a reduced price tag, we think that's a deal worth considering.
They Heat, Too
Did we forget to mention that you're not just getting AC with a ductless AC? While there are designated cooling-only systems, most homeowners opt for the heat pump models that are capable of very efficiently heating a home as well. Our mild winters are ideal for this technology.
Rather than generate new heat, heat pumps use existing heat in the air outside in order to heat homes via a heat transfer process. Contact us today if efficient, year round comfort is something that you're interested in.
Schedule service with Donald P. Dick Air Conditioning. We strive to provide honest answers and solutions to the problems our customers experience while remaining highly competitive in price, and offer the fastest turnaround you can find!