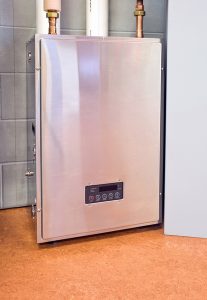 As spring progresses slowly but surely toward the summer season, the majority of homeowners are shifting their focus toward their air conditioning systems. Don't get so preoccupied with thoughts of the warmer weather to come that you overlook your other systems and appliances, though. This is especially true of your water heater, which, unlike your heater or AC, does not have an off-season. If you are ready to replace an old water heater, or if you need to purchase one for a new home construction process, you need to choose that system carefully.
The two major contenders for most homeowners today are tank and tankless water heaters (though we also install and service solar water heaters). Because investing in a new water heater is a pretty major expense, and because you will rely on this system for so many daily tasks, it really is vital that you get the water heater best suited to your needs. When you schedule your water heater services in Madera, CA with us, you'll have no doubt about it.
Why Stick with a Tank Water Heater?
Considering the fact that there are so many new technologies in the industry, you may be wondering why anyone would choose to stick with a tank style water heater. Well, the primary reason is the very same reason why tank water heaters remain so popular: they work. A tank water heater retains a supply of hot water in an insulated tank. Having this reservoir at your disposal means that you'll generally have all of the water that you need, even if you need it for a few different uses throughout the house. While the tank may be drained, modern water heater recovery times are much shorter than they used to be.
In addition to the fact that tank water heaters keep a supply of hot water at the ready, there is also the fact that they are quite affordable upfront to be considered. If you are looking for a dependable system that is not going to do too much damage to your budget at the time of purchase, then a tank water heater may be the way to go. That being said, some homeowners prefer to think in the long term, and this may lead them toward the use of a tankless system instead.
Benefits of Going Tankless
Tankless water heaters, like any other appliance, are not right for every home or for every homeowner. One of the first things that you'll notice when doing your preliminary research on available systems is the fact that tankless water heaters are much more expensive than tank models are. You really shouldn't let this dissuade you completely, though, because they can be a great long term investment.
You see, tankless water heaters have much longer lifespans than tank models. In addition to this is the fact that they suffer no standby energy loss, in which heat from the water in a tank transfers out into the air surrounding it. That allows for greater efficiency, even with well-insulated tanks, and over time you can recoup your initial investment while going on to enjoy great energy savings. It's worth noting, though, that tankless systems can be more easily overwhelmed in situations where hot water is called for at multiple points of use in the home.
If you have any questions, contact Donald P. Dick Air Conditioning. We strive to provide honest answers and solutions to the problems our customers experience while remaining highly competitive in price, and offer the fastest turnaround you can find!