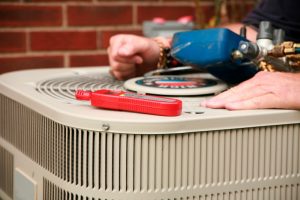 The weather in Hanford is still pretty darn cold so it is understandable that no one would be thinking about their air conditioning systems at the moment. We are bringing up your cooling unit for a reason though, and that is because we want to give you a heads up that this is the perfect time to get a jump start on your yearly maintenance service.
Yes, February may seem overly early but, again, this is actually a perfect time to get your maintenance done on your air conditioner. Aside from our state's ability to knock us over with heat waves that come out of nowhere, there are several reasons to get this service done early.
Consider the following reasons that you may want to consider early maintenance services in Hanford for your air conditioner.
No Major Delays
When you schedule your maintenance service for your air conditioner during wintertime, or early spring, you are beating the rush by quite a bit. Like we said, your cooling system is probably the furthest thing for your mind and that means it is probably the same for others as well. Be the one to get ahead of the game by scheduling maintenance now so you won't have to wait for maintenance later on in the year.
No Time Without Cool Air
If you get your maintenance done early this year it greatly reduces the risk that you will need to be without cool air at any point this summer. There are two main reasons for this: you won't have to shut off your system for maintenance later on, and you will circumvent the potential for a breakdown due to a repair need.
Improved Efficiency For Summertime
When you set up yearly maintenance, you are ensuring that your system will have the best possible energy efficiency come cooling season. This means that you will also enjoy more manageable utility bills and a better operating AC unit. Improving your system efficiency is always a good idea no matter how early in the year.
Less Risk of Missing Maintenance
Last but certainly not least we want to point out that getting your maintenance taken care of early reduces the risk of it being done late or not at all. We always want to encourage scheduling yearly maintenance and, if you haven't already, you may want to consider getting it done now that your thinking about it simply to make sure it is done. You don't want to forget and have a small issue go unaddressed and develop into a repair need!
When you are ready to get your air conditioning maintenance taken care of, whether it is now or later, make sure you get the job done by a professional service technician. The technicians on our team can get your maintenance taken care of quickly and efficiently.
We strive to provide honest answers and solutions to the problems our customers experience while remaining highly competitive in price, and offer the fastest turnaround you can find! Contact Donald P. Dick Air Conditioning for your next HVAC service.