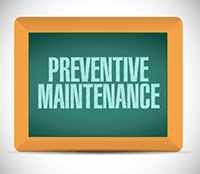 Routine preventative maintenance is essential for most machinery, and air conditioners are no exception. Many homeowners skip preventative maintenance, then wonder why their system breaks down. Here are some of the reasons to consider routine preventive maintenance for your air conditioner.
Maintenance Prevents Costly Repairs
Air conditioner repairs can be pricey, but sometimes they can also be avoided. If you schedule regular tune-ups for your system, you'll greatly reduce the risk of more costly service down the road.
Maintenance Prolongs the Life of the Unit
A unit that's serviced properly throughout its lifespan will generally last much longer than one that is not. Air conditioners must be properly maintained each season to ensure they last as long as possible.
Maintenance Helps the Unit Run More Efficiently
A properly maintained unit will run more efficiently. This saves you money each month on your cooling bill, and it keeps you more comfortable throughout the day.
Maintenance Only Takes a Few Steps
While some tasks are better left to the HVAC experts, there are a few things you can do to keep your system running efficiently, such as:
Change your air filters regularly. You'll need a new filter every one to three months, depending on your unit, filter type and household.
Keep the A/C unit free of debris. This includes leaves, dust and grass. Make sure you keep the unit clean of all debris for proper functioning.
Keep a clear perimeter around outside units. Don't plant anything near your A/C unit. It should have a clear space of one to two feet around all sides for proper airflow.
HVAC companies generally perform the following each season:
Clean the evaporator and condenser coils.
Clean and lubricate the blower fan.
Check the system for refrigerant leaks. They will add refrigerant and test for leaks if the system is low.
Check airflow and condensate drain system.
Calibrate the thermostat.
Don't let summer's scorching heat be a problem this year. Prevent A/C breakdowns by keeping up with regular preventative maintenance. Contact Donald P. Dick Air Conditioning for more tips that will keep your system operating at peak efficiency.
Our goal is to help educate our customers in the greater Fresno, California area about energy and home comfort issues (specific to HVAC systems). For more information about preventative maintenance and other HVAC topics, download our free Home Comfort Resource guide.
Credit/Copyright Attribution: "alexmillos/Shutterstock"