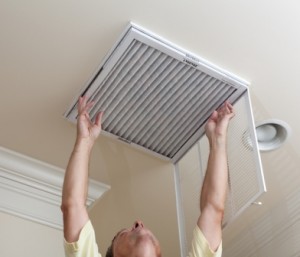 Your HVAC system's air filter is a screen of fiber mesh that is installed in your central air system in the path of incoming air. As air is drawn into the central air unit, the filter catches and holds particulate pollution present in your circulating air – anything from dust and pollen to animal dander and fungal spores. If these were to get into your central A/C, they could build up on the evaporator coil and prevent it from cooling your indoor air.
As your filter captures more and more particulates, it will begin to clog and obstruct airflow. As this happens, your blower fan motor has to work harder and harder to keep air circulating, which means that your A/C draws more energy and runs a risk of burning out. It's a good idea to change your air filter once a month to ensure your A/C functions properly.
When you purchase a new system filter, you'll need to know both the filter's dimensions and the appropriate Minimum Efficiency Reporting Value (MERV) rating. Guidelines can be found in your A/C's owner's manual, but it pays to know a little bit more about the MERV rating than what may be listed there.
MERV is a measure of what particulates a filter is guaranteed to catch. The higher the MERV, the smaller the particulates that will be filtered. Low MERV values in the 5-8 range can handle larger particles such as pollen, dust mite debris and animal dander, while air filters with a MERV value in the 13-16 range will catch all that, as well as bacteria, smoke and other fine particles.
However, before you buy the highest MERV filter on the market, double-check your manual. High-MERV filters are harder to pull air through, and using a MERV that exceeds your system's recommendations is just as bad as using a clogged filter. Aim for the top of your acceptable range.
To learn more about how the air filter of your Fresno home's A/C affects its efficiency, give Donald P. Dick Air Conditioning a call today!
Our goal is to help educate our customers in the greater Fresno, California area about energy and home comfort issues (specific to HVAC systems). For more information about air filters and other HVAC topics, download our free Home Comfort Resource guide.
Credit/Copyright Attribution: "Steve Heap/Shutterstock"