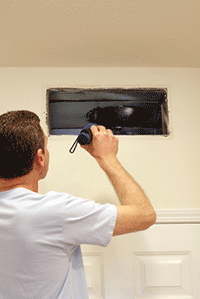 In order for the ductwork in your home's forced-air cooling and heating system to play its expected role, the ducts must be kept clean and free of dirt and other debris. The good news is that in most homes, a well-maintained HVAC system goes hand in hand with clean ductwork. Regular air filter maintenance will keep contaminants from collecting in the ducts, and properly sealed and connected duct sections will keep dirt, dust and other material from entering the system from outside. Annual preventative HVAC maintenance also will help ensure clean ducts.
What you can't be sure of, however, is whether the ducts contained grease and construction debris when they were installed, whether the ducts were already dirty when you bought the house or whether foreign materials have found their way into the ducts some other way. Or maybe for whatever reason, you've neglected to keep the filter clean or schedule regular professional maintenance on your HVAC system. If that's the case, how can you tell your home needs a professional duct cleaning?
Telltale Signs of Dirty Ducts
If you see dust bunnies and other debris coming out of supply registers, that's a sign you need professional duct cleaning. While it's not unusual to see some dust collecting near return registers, dust near supply registers suggests a pervasive problem within the ducts.
Mold developing in or around ducts is also a sign of dirty ducts. Mold can develop into a dangerous health threat, so it's important to remove it and make sure it doesn't reappear. A professional duct cleaning can help reduce that possibility.
Evidence of insects, rodents and other vermin in the ducts—such as nests, carcasses or droppings, or the pitter-patter of little feet—suggest your ducts need to be cleaned. This also can be a health threat, and at the very least it's disconcerting to think the conditioned air you're breathing has passed through insect and rodent debris.
At Donald P. Dick Air Conditioning, we'll be glad to schedule a duct inspection, and if necessary, a professional duct cleaning for your Fresno area home.
Our goal is to help educate our customers in the greater Fresno, California area about energy and home comfort issues (specific to HVAC systems). For more information about duct cleaning and other HVAC topics, download our free Home Comfort Resource guide.
Credit/Copyright Attribution: "Serenethos/Shutterstock"