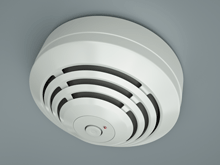 A necessary step in any home safety plan is working carbon monoxide detectors, and the only way to ensure they're working is through regular testing. A carbon monoxide detector with a dead battery is worse than no detector at all, since it might impart a false sense of security.
Carbon Monoxide, the Silent Killer
Carbon monoxide (CO) is both invisible and odorless, so it can fill up a room or car with no warning other than adverse health symptoms that mimic other maladies. Every year, an average of 170 Americans pass away from accidental CO exposure in their homes. Defective combustion heating equipment is the usual source of carbon monoxide leaks, though are by no means the only cause. Following are some important carbon monoxide detector testing tips.
CO Detector Testing
Carbon monoxide detectors come in different brands and technology, though most of them have a recommended monthly testing schedule. This testing should be done whether yours is solely battery operated or uses a hardwired connection with a battery backup. Make sure you check your detector's manual for any set-up or testing recommendations that are unique to that brand. Most recommend changing the batteries every six months, whether that's needed or not.
Testing steps are simple. First push the "test" button, holding it down for a few seconds. When it beeps, you know its operational. If it doesn't beep, change the batteries, and if that doesn't work, go buy a new detector, preferably of a different brand. You and your family's safety is too important to worry about $5 or $10.
Prevention Is Essential
You can minimize the risk of carbon monoxide poisoning with annual professional maintenance of combustion heating appliances, such as your furnace and water heater. Also, avoid using fuel-burning tools and cooking devices in garages and near open windows and doors. Don't idle motor vehicles in garages.
For more carbon monoxide detector testing tips, please contact us at Donald P. Dick Air Conditioning. We provide quality HVAC services to the greater Fresno area.
Our goal is to help educate our customers in the greater Fresno, California area about energy and home comfort issues (specific to HVAC systems). For more information about carbon monoxide detectors and other HVAC topics, download our free Home Comfort Resource guide.
Credit/Copyright Attribution: "Grzegorz Petrykowski/Shutterstock"