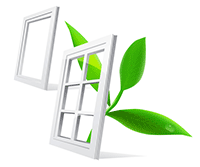 Insulated windows can offer a boost to your home's efficiency, but for many homeowners, the cost and hassle of a window replacement simply isn't worth it. The good news, though, is that you can weatherize existing windows to keep your efficiency high and your energy costs low.
How to Weatherize Existing Windows
Use window treatments such as curtains, awnings or reflective films during the summer. Passive solar heat gain can raise the temperature of your home several degrees and cause your air conditioner to work harder to keep you cool. Keep the sun out of your windows to reduce your cooling needs.
Plant green leafy plants in the path of the sun. Not only do green plants offer shade and improve your nearby air quality, but because they absorb sunlight to use as energy, they can actually lower temperatures slightly in their immediate vicinity.
Make sure that any air leaks are sealed with caulk or weatherstripping. If your home isn't airtight, you're losing energy as unconditioned outside air comes in. You may want to use an energy recovery ventilator (ERV) to bring in fresh air without bringing in the outside climate.
Replace the pane if you have a cracked window. Cracks allow air and temperature to breach your window. If you don't have time to get the pane replaced, clear nail polish will seal the leak and provide some protection against the crack growing.
During the winter, use shrink-wrap film to add an extra layer of insulation to your windows. This will add a cushion of air, which slows heat loss. Once applied, though, you won't be able to open your windows until it's taken down, and if you want to re-apply it you'll have to use new film.
If you're trying to weatherize existing windows in your Fresno home, Donald P. Dick Air Conditioning can help! Give us a call today.
Our goal is to help educate our customers in the greater Fresno, California area about energy and home comfort issues (specific to HVAC systems). For more information about weatherizing windows and other HVAC topics, download our free Home Comfort Resource guide.
Credit/Copyright Attribution: "My-Portfolio/Shutterstock"