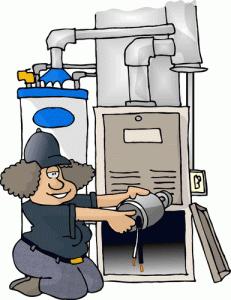 Although the heating season in the Central Valley isn't nearly as demanding as the cooling season, it's important to have professional furnace maintenance this fall. When an HVAC expert goes through your equipment, you'll have the assurance that the system runs as cleanly and efficiently as possible, both of which promote dependable performance.
Changing the air filter. Starting the heating season with a clean air filter improves the operating efficiency of your furnace, prolongs your furnace's life, and increases safety. The HVAC pro can tell you when to change it and the best filter replacement to maintain your system.
Thorough cleaning. Removing any dust from the inside of the air handler improves the efficiency of the whole system, since an accumulation of dust on the blower motor and electrical components makes the run hotter.

Over time, soot deposits can form inside the burner where the combustion process occurs, the ignitor, or the pilot light. A clean burner transfers heat to the heat exchanger more efficiently, and a dirty ignitor or pilot light can stop the furnace from running.

Excessive soot deposits can be a sign of an improper fuel-to-air ratio, which drives up energy consumption, or worse, a cracked heat exchanger. These cracks can emit carbon monoxide, a serious danger to everyone. Preventing the situations that cause heat exchangers to crack is one of the biggest reasons to perform furnace maintenance each year.

Oiling the motor. Some blower motors need periodic lubrication to run smoothly and efficiently. Inadequate oil causes premature failure and a replacement. At the same time, the HVAC pro will check the condition of the belt and tighten if necessary.
Airflow. Testing the airflow through the system might turn up ductwork leaks that drive up energy bills, reduce comfort, and can spread CO throughout your home if you use any ducted gas appliances.
Checking the safety equipment. Furnaces have safety switches that turn off the furnace when it isn't running as it should.
To learn more about furnace maintenance, contact Donald P. Dick Air Conditioning, providing top-notch HVAC services for Fresno area homeowners.
Our goal is to help educate our customers in the greater Fresno, California area about energy and home comfort issues (specific to HVAC systems). 
Credit/Copyright Attribution: "Dennis Cox/Shutterstock"