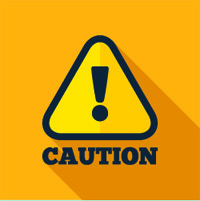 A cracked heat exchanger in your furnace is a serious problem that needs to addressed quickly. No homeowner wants to check on their furnace and find that the heat exchanger is cracked, but you should be able to identify the symptoms of this serious and potentially deadly problem.
Why Is a Cracked Heat Exchanger Serious?
Not every cracked heat exchanger presents an immediate and deadly threat, but the fact is that some of them do. A crack in the heat exchanger of a furnace may allow carbon monoxide, pure carbon (soot), nitrogen oxides and other pollutants to escape into your living space. All of these can be dangerous – in some cases deadly – with high quantities or prolonged exposure.
What Are the Symptoms? 
A cracked heat exchanger may not always be apparent, but there are a few signs that may give it away. Look for these signs:
Abnormal flame – The flame on your furnace should burn clean, steady and blue. If the burner produces an erratic or yellow-colored flame, a cracked heat exchanger is one of the possible causes.
Soot buildup – A crack in the heat exchanger allows soot to escape, and the soot will often build up visibly on the internal components of the furnace, usually in the immediate area of the crack.
High carbon monoxide levels – Carbon monoxide is one of the most dangerous signs of a cracked heat exchanger, so make sure you have carbon monoxide detectors installed in your home.
Cracks and rust – Visible cracks and rust on the metal components of your furnace are the most obvious signs to look for. Rust often occurs if your furnace has been exposed to moisture, and can lead to a future crack.
What if the Heat Exchanger Is Cracked?
If you find or suspect a crack in your furnace's heat exchanger, contact a professional for a service checkup immediately. A certified technician can determine if your heat exchanger is cracked, and help you decide if your furnace needs to be repaired or replaced. The heat exchanger is a major part, and replacing one is expensive, so this may forced you to replace the entire furnace.
For more information on cracked heat exchangers, please contact us at Donald P. Dick Air Conditioning. We've been serving the Fresno area for more than 40 years.
Our goal is to help educate our customers in the greater Fresno, California area about energy and home comfort issues (specific to HVAC systems). For more information about heat exchangers and other HVAC topics, download our free Home Comfort Resource guide.
Credit/Copyright Attribution: "Blan-k/Shutterstock"