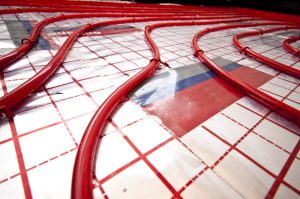 If not, and you are ready to install a new heating system in a new home or to replace an existing heater, stop what you're doing! Okay, that may be a little overly dramatic, but you really should not move forward with your project until you've given the option of radiant heating some attention. Radiant heating in Clovis, CA may not be quite as common as forced air heating, but the fact is that these systems have a lot to offer.
Today, we're going to help you to better understand how it is that a radiant heater actually heats a home, as well as what the benefits of heating your home in this manner are. Upon review, you may just realize that a radiant heater is what you've been looking for all this time. While radiant heating is not right for every home and every homeowner—if it were, there wouldn't be so many options to choose from—many homeowners swear by it.
How Does Radiant Heating Differ From Forced Air Heating
In a very fundamental way, actually. Forced air heaters, including heat pumps and furnaces, heat air directly and then distribute that heated air throughout the house via a system of ductwork. Radiant heating systems, on the other hand, apply heat directly not to air, but to surfaces in the home themselves. While there are radiant panels that may heat walls and electric radiant coils that may heat floors, the preferred method of radiant heating today is the hydronic in-floor radiant heating system.
With a hydronic radiant heating system, water is heated by a boiler. That heated water is then circulated throughout the house via a system of tubes installed beneath the floors of your home. Because of this location, it is definitely more convenient to install a hydronic system at the time of construction or during renovations. That being said, it can certainly be completed in an existing property.
The heat from this water heats the floor, which heats your feet! Not just your feet, though. The heat also radiates out to objects in the rooms of your home, including furniture and human bodies. Convection does play a role here, as well.
Benefits of Radiant Heating
With a forced air heater, you always run the risk of heated air being trapped up at the ceilings where it is really not going to do you much good. You can use ceiling fans to force that heated air back down into the living space, but radiant heating keeps it there to begin with. There are fewer moving parts to malfunction with a radiant heating system, the risk of ducts leaking and wasting energy is eliminated, and water is simply a better heat transfer medium than air as it retains heat longer.
If you think that all of this means radiant heating is the way to go in your home, just give us a call. We're happy to answer any lingering questions that you may have. We are also capable of sizing, installing, and servicing your equipment properly every step of the way!
We strive to provide honest answers and solutions to the problems our customers experience while remaining highly competitive in price, and offer the fastest turnaround you can find! Schedule your heating services with Donald P. Dick Air Conditioning.