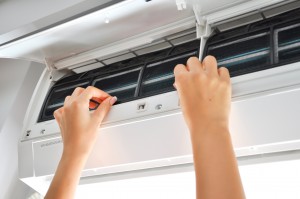 These days, efficiency and affordability are at the forefront of homeowners minds when it comes to keeping their homes comfortable. If you are serious about boosting the efficiency with which you do so, particularly in terms of heating, then we have a suggestion for you. Opt for a ductless mini split system in Hanford, CA. Ductless mini splits are among the most efficient of all residential HVAC options.
We've talked about the benefits of ductless heating in particular previously, and there are many to consider. Today, we want to focus in on the economical benefits of using a ductless mini split system. Keep the following information in mind, and remember to schedule service with us if you decide that it is time to take ductwork out of your home comfort equation. 
What Makes the Ductless Mini Split System So Efficient?
This is a very loaded question. The short answer that some may give is simply that it is a heat pump. While the use of heat pump technology certainly plays a huge role in the ductless mini split's capacity for saving you money, it is supplemented by a few other factors. When taken as a whole, these give you a pretty clear picture of the ductless mini split's potential for monetary savings.
Heat Transfer. We'll start with this, because it is the biggest player in the efficiency game and is probably the characteristic that most homeowners are most familiar with. A ductless mini split is indeed a heat pump. This means that it can reverse its mode of operation. During the summer, refrigerant is evaporated in the indoor components, and condensed outside to release heat. In the winter, the refrigerant is evaporated in the outdoor coil, and condensed in the indoor units in order to use that heat to warm the air in your home. That transfer of heat is far more efficient than the creation of new heat.
Zone Control. Zone control systems can be installed into ducted heaters and ACs in order to break up your home into different temperature zones. With a ductless mini split system, however, this functionality is inherent to the design of the system. The individual blowers used by the ductless mini split are all controlled independently of one another. That means that you can set different temperatures in different areas of the house without the need for any upgrades or equipment retrofits. Heating and cooling your home more thoughtfully can really add up in terms of energy savings.
No Leaks. Among the most common culprits of energy inefficiency in homes today is leaky ductwork. When air does not make it to its intended destination, your HVAC system then has to work harder in order to balance temperatures throughout your home. You don't have to worry about this problem at all with a ductless mini split. After all, there is no ductwork that could possibly leak!
We strive to provide honest answers and solutions to the problems our customers experience while remaining highly competitive in price, and offer the fastest turnaround you can find! Call Donald P. Dick Air Conditioning today to schedule your ductless mini split services.