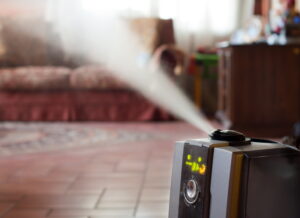 Dry air may not seem like a problem but it can easily be something that creates a lot of trouble with your comfort. It makes it harder for your heating system to operate and can mess with other parts of your comfort too like causing dry skin or cracked wood furniture.
If you have problems with overly dry air in your home, you are likely wondering what in the world you can do to resolve the issue. It's not like walking around the home with a spritzer is going to make much of a difference. With the help of our HVAC service in Fresno, CA you can find a reliable solution that deals with this issue in a reliable manner. This solution is the installation of a whole-home humidifier.
What Does a Whole-Home Humidifier Do?
Whole-home humidifiers do the job that a portable humidifier does but far more effectively. Because these systems are installed in your ductwork, they provide moisture control for the entire home rather than in just one room. This can boost your home comfort quite a bit in the wintertime by helping you feel warmer and reducing the discomfort created by dry air.
Issues Created by Low Humidity
It is probable that you are wondering what the issue with dry air really is. Most of us spend months struggling to stay comfortable because of high humidity and heat, so isn't dry air an okay thing? The reality is that air that is too dry can be just as uncomfortable as the air that is far too humid. Here's why:
Dry air makes it hard to stay warm because it doesn't hold heat well.
Dry air can dry out your skin and hair.
Dry air can increase dust and debris around your home.
Dry air can actually make you more likely to get sick.
You want to have a good in-between when it comes to humidity. Moisture levels between 30-50% are ideal for your comfort and your health. A whole-home humidifier is going to help you achieve this ideal indoor humidity level so you can get the optimal comfort you want.
How Our Team Can Help You Battle Dry Air
Our HVAC services are going to be the best thing to help you deal with the dry air in your home. We can assess your indoor air quality and figure out if a humidifier is the best solution for you. From there, we can provide you with a professional humidifier installation and follow-up services like maintenance and repairs to ensure you can enjoy great home comfort.
Every member of our team is licensed and experienced so you can trust us with your indoor air quality system services. We've been providing reliable services to the residents in and around Fresno area since 1970 and we are proud to still be going strong.
We strive to provide honest answers and solutions to the problems our customers experience while remaining highly competitive in price, and offer the fastest turnaround you can find! Contact Donald P. Dick Air Conditioning to schedule your next service appointment.