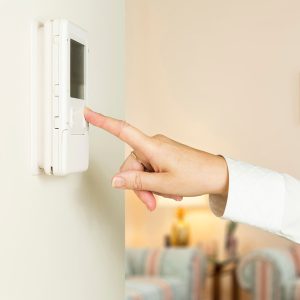 Imagine trying to drive a car without a wheel. Okay, maybe that is a bit too much. Imagine trying to get a phone to work without any buttons or touchscreen function. In with case, your ability to command the device is gone. This is what it is like having a heater without a working thermostat.
Your thermostat is vital to your Lemoore, CA HVAC system–without it, your systems wouldn't have any way to know when you wanted them to turn on or for how long. If your thermostat is malfunctioning, a lot can still go wrong. That is why, if you've been doing battle with your thermostat, we want you to know that now is a great time for new beginnings.
Do I Really Need a New Thermostat?
You don't want to ditch a thermostat that can still last you several more years. If your thermostat is struggling to do its job and it is affecting your home comfort, though, an upgrade may be something to consider. Here is how you know it is time to start the new year with a new thermostat:
Temperatures in the house are always off. The more accurate your thermostat's temperature readings, the better your comfort and your energy efficiency. The opposite is also true. If your thermostat can't quite get the temperature reading down right, it can leave things feeling too hot or too cold all the time. Likewise, it will stress your HVAC systems and reduce your energy efficiency. An upgrade can help you get more accurate temperature readings that will help address all of this.
The thermostat has a delay in its response to you. You flip the switch or turn the dial on your thermostat and…nothing happens. Maybe it takes a minute or maybe nothing happens at all. Delays in response from your thermostat are bad news. No response at all is worse news. In either case, you'll want to schedule an appointment to get a new thermostat installed.
Your thermostat is older than both your AC and your heater. Have you upgraded your heater, your air conditioner, or both in the past few years? When you upgraded one of these systems did you also upgrade your thermostat? If not, the time has come. A thermostat that is older than the key contributors to your HVAC system is one that cannot direct things efficiently or effectively.
Upgrade with Smart Way…or the Wi-fi Way
When you do decide to upgrade your thermostat, don't choose another one that is just as outdated! The initial cash savings simply won't pay off. Instead, choose a smart or Wi-fi thermostat. These options will help improve temperature reading and adjustment, will boost your energy efficiency, and will offer other great benefits like remote control options.
Schedule your upgrade with the team at Donald P. Dick Air Conditioning. We strive to provide honest answers and solutions to the problems our customers experience while remaining highly competitive in price, and offer the fastest turnaround you can find!