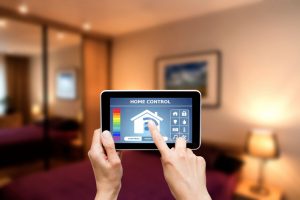 Your thermostat is the brain of your heating and cooling system. Without this part of your comfort system, it can't do much of anything.
We want you to take a moment to consider how well your thermostat is working. Or, rather, can its functionality be considered as "working" at all? A faulty thermostat can ruin your home comfort and your HVAC system efficiency.
If you are battling with your thermostat, then you should consider an upgrade. We are happy to explain why.
The Perks of a Thermostat Upgrade
Getting a new thermostat isn't nearly as big an investment as a new heater or AC system. However, an upgrade could still be an ideal course of action.
Improved HVAC system efficiency: The more accurate your thermostat is, the less your HVAC systems will have to run. As a result, the less energy they will need to use. Upgrading your thermostat can help to improve the energy efficiency of both your heater and your AC.
Improved overall home comfort, all year long: A newer, more accurate thermostat will provide you with better home comfort. This is because it can help your HVAC systems run right when they need to and will improve their ability to adjust the temperature. This is a better level of control that you will benefit from every day of the year.
Easy access from wherever you are: Last but not least, a newer thermostat often come with smart or wi-fi technology. This will allow you the ability to adjust the temperature in your home from wherever you are. These thermostats can be connected to a phone or tablet, meaning you don't have to wait to get home to warm things up.
These are just some of the benefits you can enjoy with a newer thermostat. When you talk to one of our technicians, they can help you discover which thermostat will meet your needs best.
How to Tell It Is Time For a New Thermostat
If you aren't sure whether you need a new thermostat, we can help with that too. After all, it is hard to let go of a system that still functions. These are some of the warning signs that a thermostat upgrade would be a great idea for you.
The temperature is always wrong: If your thermostat is always several degrees too low or too high, then you need to upgrade.
Your system barely responds: How quickly does your thermostat respond when you try to adjust the temperature? If you barely get a response, then your thermostat may be on its way out.
The thermostat resets itself: You shouldn't have to fight with your thermostat to set the temperature you want.
Oh, one last note. If you have a thermostat that is an old slider model, then you without a doubt need a new thermostat.
Contact Donald P. Dick Air Conditioning to get your thermostat upgrade started. We strive to provide honest answers and solutions to the problems our customers experience while remaining highly competitive in price and offering the fastest turnaround you can find!