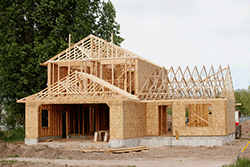 Instead of buying a home, you're building a new one from scratch. It's a smart move, but how do you do it? What do you need to know to make sure your home is the best it can be? Here are five things to focus on when it comes to new home construction.
Foundation. Your foundation can be a slab, a basement, or a crawlspace. Whichever option you choose, make sure the foundation is square, level and plumb to support your house effectively. Also make sure that the walls are the right thickness and meet all building codes.
Heating and cooling system. Make sure your heating and cooling system is sized properly for your home, and installed correctly. If it's not, then it won't be able to heat or cool your home efficiently, wasting tons of energy, and putting extra strain on the system, causing frequent breakdowns and shortening its lifespan.
Ventilation. In addition to the heating and cooling system, it's important to have good ventilation in your home so that air can be distributed evenly across the space. Make sure there are at least two registers in each room so air can still flow even if one register is blocked. Also make sure you place your return vents for maximum effectiveness in venting old air back outside. Finally, make sure that your ductwork is insulated and free of holes, gaps and other damage that depletes the energy efficiency of your HVAC system.
Roofing. Be sure to put felt paper underneath the shingles. It's waterproof to prevent leaks, as well as general moisture buildup, which could damage the materials below. It also allows your roof to meet the fire rating for Underwriters Laboratories.
Permits. In any new home construction, it's essential to file for all necessary building permits in advance. Do your research to find out what permits are required for the work you're planning on doing, and how to acquire them. Also research building codes, to make sure everything meets the necessary requirements for safety and quality construction.
For more tips on new home construction, contact us at Donald P. Dick Air Conditioning today.
Our goal is to help educate our customers in the greater Fresno, California area about energy and home comfort issues (specific to HVAC systems). For more information about home construction and other HVAC topics, download our free Home Comfort Resource guide.
Credit/Copyright Attribution: "B Brown/Shutterstock"