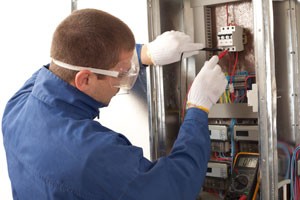 Many homes in the Fresno area are old enough that the electrical wiring either can't meet modern demands or it's in poor condition and no longer safe. Upgrading the wiring solves both problems.
Preparing for Your Upgrade
When many of today's older homes were built, 60 amps were more than enough power for the whole house. For new homes, anything less than 100 amps is too little. If your home is supplied with 100 amps or less, or your electrical panels are overloaded, it's time to update your wiring.
Start by taking an inventory of the electrical appliances and devices you want to use and where you plan to use them. Also check the most recent California Electrical Code, which sets rules that will affect your re-wiring plans.
For easier planning, group certain projects together. If you need to upgrade an old fuse box to a circuit breaker, combine that with upgrading your service to 150 or 200 amps because you'll need to temporarily disconnect the service anyway. After that, you can work on other parts of the home separately.
For re-wiring a two-story house, there are two different approaches. The first is to direct all the "home runs" (cables leading to the breaker panel) to the main service panel. The second is to install a subpanel on the second floor. Installing a subpanel means you'll need only one cable running from the main panel to the second floor subpanel instead of a cable for each circuit on the second floor running to the main panel.
Hiring a Pro
With electrical wiring, even a minor mistake can cause a potentially fatal house fire. Laws vary on what you can do yourself, and your work will still need to pass inspection by a licensed electrician. When you're ready to hire a pro, don't just look for low hourly rates. Ultimately, you'll pay less for an experienced professional with quality tools than for an inexperienced, poorly equipped electrician.
For more information on upgrading your electrical wiring, contact us at Donald P. Dick Air Conditioning.
Our goal is to help educate our customers in the greater Fresno, California area about energy and home comfort issues (specific to HVAC systems). For more information about electrical wiring and other HVAC topics, download our free Home Comfort Resource guide.
Credit/Copyright Attribution: "Barabasa/Shutterstock"