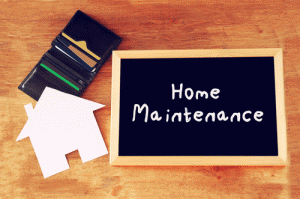 The changing of the seasons is an ideal time to take care of home maintenance tasks that improve comfort and energy efficiency. To reduce stress on your HVAC system and keep your home in the best shape, make sure these tasks are on your list.
Seal Air Leaks
Air leaks involve heat loss in the cooler seasons and heat gain in summer. Take care of these leaks now and you'll experience cleaner indoor air, better climate control and energy savings. Weatherizing windows and doors are projects that most homeowners can do. To address air leaks and other common energy-wasting issues more thoroughly, have a contractor perform an energy audit.
Inspect the Roof
Roof damage can lead to moisture and mold problems inside the home. It also poses a problem for attic insulation because insulation can lose effectiveness when wet. Check the roof for any broken or missing shingles, soft or spongy areas that might indicate rotten wood beneath the shingles, and have the roof repaired as soon as you can.
Check the Attic
A well-insulated attic is one of the most important features contributing towards energy savings and home comfort. In summer, it prevents heat from radiating into the home. In winter, it prevents heat loss. Attic insulation should be dry and free of mold, cover the entire attic floor without gaps, and be rated appropriately for the attic's extra insulating requirements.
The rating is known as the R-value, which indicates insulation's ability to block the conduction of heat. In our area, the minimum attic insulation R-value is R-30.
Clean the Gutters
Clogged gutters can lead to structural damage in many ways, including by:
Forcing rainwater to back up onto the roof.

Causing water to pool too close to the foundation.
Avoid mold, rot and foundation problems by keeping your gutters clean.
For more information about home maintenance tasks that increase energy efficiency, please contact us at Donald P. Dick Air Conditioning. We've served the Fresno area since 1970 and look forward to serving you.
Our goal is to help educate our customers in the greater Fresno, California area about energy and home comfort issues (specific to HVAC systems).
Credit/Copyright Attribution: "tomertu/Shutterstock"