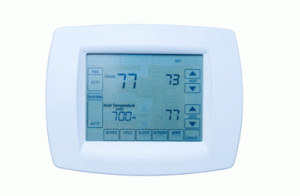 It's important to keep your home warm and comfortable during the winter. But how can you do it without driving your energy bills up and having it cost you an arm and a leg? There are a number of steps you can take. One of the simplest is to use a programmable thermostat.
Important as it is to keep your house warm, having your furnace or heat pump run while you're not at home wastes a ton of energy. Even running it while you sleep is overkill. Your programmable thermostat has two separate settings. While you're at home, set it for around 75 degrees to keep you comfortable. But there's also an energy-saving setting of several degrees lower, which you can set to kick in automatically around the time that you leave for work and the kids leave for school.
Your thermostat should be programmed to stay on the energy-saving setting for eight hours or so, switching back to the warmer setting around the time you get home. It then keeps you warm until bedtime, when it goes back to the energy-saving setting for the night (if it's too cold, you can always throw on an extra blanket or two).
You can set your thermostat to accommodate your daily schedule. But of course, no one's schedule is the same every day. If you have a traditional Monday through Friday job and stay home on weekends, you can get a 5-2 thermostat with a separate setting for Saturdays and Sundays. Or, let's say you sleep late Saturday but go to church early Sunday morning; you can get a 5-1-1 thermostat, where Saturday and Sunday schedules can be programmed individually.
If your weekday and weekend schedule frequently changes, you can get a 7-day thermostat and program each day individually. No matter what your needs are, there's a programmable thermostat to fit your schedule and keep your house comfortable while saving you energy.
To learn more about your programmable thermostat, and get other tips for saving energy this winter, contact us at Donald P. Dick Air Conditioning.
Our goal is to help educate our customers in the greater Fresno, California area about energy and home comfort issues (specific to HVAC systems).
Credit/Copyright Attribution: "Daniel Hodac/Shutterstock"