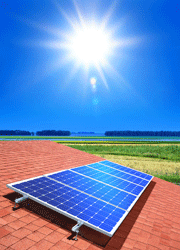 One thing that we are not lacking for in this part of the country is sunshine. Because of this, many homeowners in the area are using solar energy systems in order to power their homes. Using solar energy has a lot of different benefits to offer homeowners. As you can imagine, setting up a solar PV system that will function as effectively and reliably as possible is not a job that just anyone can handle. There is no point in making the jump to solar energy in Madera, CA if you are not going to enjoy an outstanding performance from your system.
Fortunately for you, our solar technicians are here to eliminate that risk entirely. Not only can we design a great solar energy system for your home, but we also install products from top manufacturers in the clean energy industry. These include Enphase Energy and SolarWorld. Contact us today with any questions that you may have. 
Solar Energy Benefits
There are a lot of benefits to using solar energy that entice homeowners. For the environmentally minded, using a clean, renewable source of energy simply makes sense. You really cannot get any more eco-friendly than using the power of the sun to power all of the appliances and systems that you use in your home each and every day.
For those homeowners that perhaps aren't quite as concerned with environmental benefits, the financial benefits of using solar energy systems are also hard to pass over. There is an initial investment that you'll have to make, obviously, but the amount of money that you save over the years in energy costs will help to offset that initial cost. Plus, various tax credits and other promotions can help to make the installation of such a system even more affordable. We ourselves are running a promotion right now that  allows for up to $300 in rebates when you purchase 4 or more solar panels.
H0w Does a Solar PV System Work?
A solar PV, or photovoltaic, system works by converting sunlight directly into electricity. You've no doubt seen solar panels on top of roofs or in a field somewhere at this point. Those panels contain multiple solar cells. The cells are connected to one another, and generate electricity that goes directly to your home's electrical panel. In many cases, homeowners are actually able to generate more electricity than they need in this manner. This surplus can be sold back to the grid in qualifying circumstances. Excess energy may also be stored in batteries, depending upon the setup of the solar energy system.
When you consider all of the benefits that solar has to offer, you may be wondering why everyone isn't using it. Well, change takes time. Homeowners have a lot of expenses to worry about, and the initial process of solar PV panel installation may seem daunting. It's clear to see that this is a booming industry, though, because more and more homeowners are beginning to understand the longterm benefits — and shorter term opportunities — of choosing solar.
If you have any questions about our solar PV panel services, the products that we use, or anything else, be sure to give the solar pros at Donald P. Dick Air Conditioning a call today. We strive to provide honest answers and solutions to the problems our customers experience while remaining highly competitive in price, and offer the fastest turnaround you can find!