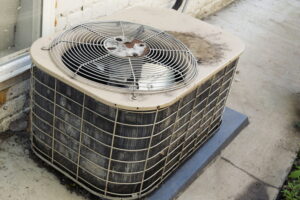 You don't want to do battle with your air conditioner all summer, do you? We'd say the answer is probably no! After all, this time of year in Fresno is when you need this system the most. However, this time of the year is also the one that can put the most strain on this system and end up being "the straw that breaks the camel's back."
Translation: the height of summer is when most air conditioners give out. But remember that you don't want to be without your AC! How can you get your AC replacement in Fresno before your system completely stops working? Watch out for these warning signs for a start!
4 Warning Signs That Your AC Needs to Be Replaced
If your AC is on its last leg, you need to get the system replaced quickly. Watch out for these indicators that it is time to upgrade.
The system is 10-15 years old: Age matters a lot when it comes to your air conditioner. You will need to check on the age of your AC because, when it starts to falter, it can be the defining factor that tells you if you need a repair or replacement.
You've never gotten the system maintained: We hate to tell you this but an air conditioner that has never been maintained is one that will last a vastly shorter number of years than one that gets maintenance each year. If you have a system that is nearing 10 years old and has never been maintained, it is much more likely that it will need to be replaced.
You need repairs frequently: Repairs are a normal thing for your AC to need throughout its lifespan. The question is how often the repairs are actually needed. If you need repairs on a yearly basis, or even more often than that, it needs to be replaced before it breaks down completely.
Repair costs have become too high: Another sign that your AC may need to retire is the cost of those repairs. If the bill that you get for an AC repair could easily pay for half of a new system then it is better to invest in the new system instead.
Come to Our Team For Your AC needs
Getting a new air conditioner installed in your home is no small task. That's why you want to make sure that the job is done correctly the first time around. And for that, you need a team of experts like us to help you out.
Scheduling an air conditioner replacement with our team ensures that we can help diagnose if you do need a replacement, then figure out which new system is best for your needs. Then, of course, we can provide an expert replacement service for your team that gets your new system started right.
We strive to provide honest answers and solutions to the problems our customers experience while remaining highly competitive in price, and offer the fastest turnaround you can find! Schedule your AC replacement with Donald P. Dick Air Conditioning.