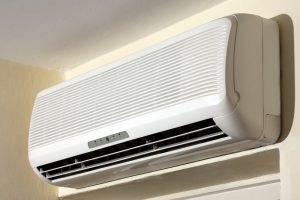 It makes a difference to have a highly effective and efficient air conditioner in your home during the summer. But what if you haven't been able to accommodate a good air conditioner in your home before now? While we are sure that you have a pretty slick system of fans set up at this point, we would say that now is a great time to talk with a technician about getting a comprehensive AC system installed in your home.
If you are on the hunt for an air conditioner for your home we would love to introduce you to the ductless AC system. Read on to learn more about why you may want to go with a ductless air conditioner and then reach out to us for your AC system installation in Fresno.
What is a ductless system?
A ductless system is a type of heat pump mini split that is made to operate without the use of ductwork. This means that you are able to receive cool, comfortable air throughout your home through multiple air handlers attached to a single outdoor unit.
Ductless air conditioners are able to offer year-round comfort just like ducted heat pump systems. These systems, of course, provide their own benefits unique to their setup that may make them a great choice for your home.
Benefits of a ductless system
Ductless operation: As the name of the system implies you do not need ductwork to operate a ductless air conditioner. Ductless ACs consist of a number of air handlers attached to an outdoor unit with condensate and refrigerant conduits that allow it to do its job.
Better indoor air quality: without the use of ductwork you don't have to worry about the impact of dirt build-up in the ducts lowering your indoor air quality. Ductless air conditioners are able to provide better air quality than their ducted counterparts
Saved space: Thanks to the fact that they don't need ductwork and the use of air handlers gives back some square footage, these systems are able to save a lot of space in your home.
Incredible efficiency: Ductless ACs are also able to offer incredible energy efficiency as they operate. This is especially true in wintertime during the heating process as they use heat transfer rather than combustion.
Year-round comfort: You've probably guessed by now. A ductless system is a type of heat pump it is able to reverse the flow of refrigerant to heat your home in winter as well as cool it in summer. That means that you get year-round comfort all from one system.
Ductless AC installation is NOT a DIY project
Does a ductless system sound like the right fit for you? If so make sure to reach out to a professional technician to get the installation taken care of. While the installation of a ductless system may not be as complicated as a ducted central AC or heat pump it does not mean that it is a DIY project. Make sure to give you a ductless AC the right start with professional service.
Schedule your installation with Donald P. Dick Air Conditioning. We strive to provide honest answers and solutions to the problems our customers experience while remaining highly competitive in price, and offer the fastest turnaround you can find!