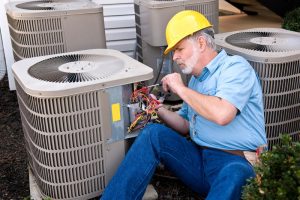 This summer, much like most summers, was a hot one. That means that your air conditioner just put in some serious mileage. While AC maintenance is going to help your system run the race, it doesn't mean that it won't ever develop a problem. The end of the season is when most people brush past the signs of a need for air conditioning repair in Madera, CA. We get it–the system is about to turn off for several months. However, we'd advise against letting that warning indicator go unaddressed.
Don't just turn off your air conditioner if it has been giving you trouble. The issue certainly won't go away but it is likely that it will get worse by next summer. Make sure to address any possible end-of-season repairs promptly so they don't come back to haunt you.
3 End-of-Season Repair Needs Your AC May Have
Is your air conditioner struggling during the period right before you are planning to shut it down for the season? If so, make sure to schedule repairs even if you aren't going to be using it for a while. This is California after all and you never know when we will get a random heat wave and need to switch back to our cooling systems!
Here are three of the most common AC repairs that pop up at the end of the season:
A dirty or frozen evaporator coil: The evaporator coil in your AC is responsible for absorbing heat to be transferred outside. If the coil becomes too dirty over the course of the summer, it can lead to a reduction in the level of comfort it can provide. Likewise, that reduced heat transfer can cause it to develop a layer of ice which can seriously harm the system if it stays there for too long.
Duct problems: Your AC works hard to produce cold air so why is it that you felt like you barely received any over the last month? The answer may be you have ductwork problems. Age and regular wear and tear can cause your ducts to develop leaks or holes that allow your hard-won cool air to escape before reaching its desired destination. Have a professional test and seal your ducts to solve this.
A refrigerant leak: Last but not least, your system may have developed a refrigerant leak. A refrigerant leak can appear in your evaporator unit or your condenser unit. In either case, it needs to be found and patched ASAP. Leaking refrigerant lines can lead to an early system breakdown if not addressed quickly.
As we said, these are three of the most common repair needs that pop up this time of year. If you are noticing any other issues with your AC systems, such as weak airflow or short cycling, your best bet is to get repairs now, before they ruin your home comfort next summer.
We strive to provide honest answers and solutions to the problems our customers experience while remaining highly competitive in price, and offer the fastest turnaround you can find! Contact Donald P. Dick Air Conditioning for your AC services today.