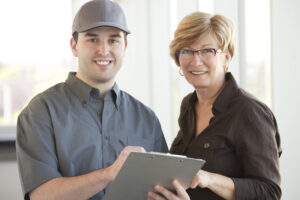 When you are facing HVAC service needs, we know that there is a lot to take into consideration. What is causing problems in your HVAC system? How long will you be without your air conditioner or heater? What's more, who is going to fix the issue? That last question is a pretty important one. And it is one we hope you wouldn't answer with the words "amateur" or "DIY fix."
When something goes wrong with your AC or heater, you should always turn to a professional HVAC contractor in Fresno, CA. A trained technician like the ones on our team will be able to get your system back on track without a hassle and without putting the system at risk of further damage.
Let's take a look at the unique qualifications that set the professionals apart so you know why they're worth every penny.
Certification and licensing
Professional technicians are trained to do what they do. No Youtube tutorials here! And how can you tell that they are expertly trained? By checking their certifications and licensing. Certifications are proof of completed courses and licensing is earned through rigorous testing. This is the paperwork that proves that the technician coming into your home knows exactly how to do their job.
Available tools and parts
A technician that knows what they are doing is also going to be prepared to get the job done. This means that they are going to show up with the needed tools and parts to get your system running properly again. No having to pay for a hardware store run! Instead your technician should be able to get the job done easily and quickly with the tools and equipment they have on hand.
Knowledge and experience
Trained technicians are also going to have some experience under their belt. After hours spent in training and shadowing other professionals in the field, the technician that shows up at your door will more often than not be able to say, "I've seen this issue and I know exactly what to do." That is the benefit of years of in-field experience and professional knowledge.
Reviews
Last but certainly not least, when you work with a company like ours, you don't just have to take our word for the fact their our technicians are the experts at what they do. You can check our reviews to make sure that what we say is true. We encourage our customers to leave reviews about their experiences so you can see exactly what it is like to work with an expert from our team.
The Difference of Working With Donald P. Dick Air Conditioning
You should always work with a professional HVAC technician to keep your systems running right. But why come to Donald P. Dick to get the job done?
We've been serving residents in the area for over 45 years.
We always put our customers first.
We always charge a fair price and choose to over-deliver whenever possible.
We offer great warranties and price matching on our work.
We strive to provide honest answers and solutions to the problems our customers experience while remaining highly competitive in price, and offer the fastest turnaround you can find! Contact Donald P. Dick Air Conditioning today for your expert HVAC services.