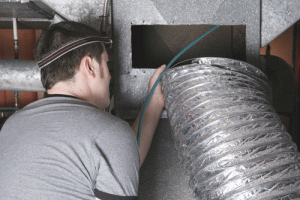 The duct system is a branching network of tubes that convey cooled and heated airflow to the rooms of your home. The efficiency with which this vital function is performed plays heavily in your home's efficiency and comfort. Consider the benefits of scheduling professional duct maintenance and make your Fresno home more efficient. 
Maintenance Benefits
When you include duct maintenance with scheduled air conditioning or furnace maintenance, you may expect the following benefits in your home:
Comfort: Sealing leaky ducts and insulating problem areas mitigates comfort problems related to uneven air distribution and temperature gain/fall at the most distant rooms in the home.
Energy savings: The average home can improve cooling and heating efficiency by up to 20 percent by repairing duct leaks and remedying duct design problems through maintenance.
Indoor air quality: Duct leaks can pull in pollutants and odors and circulate them through the living spaces of your home. Sealing up ducts can improve indoor air quality.
Safety: Sealing leaky ducts also reduces the risk of back drafting when combustion appliances are present.
Duct Testing
Your HVAC technician should be experienced and equipped with the right tools to perform a thorough duct inspection as follows:
Visual inspection: Ducts are first visually inspected for signs of obvious leakage and insulation problems.
Air pressure test: A flow hood test is used to measure air pressure at the supply registers.
Leak test: A duct blaster or blower door test is used to find very small leaks in the ducts.
Cleanliness: Ducts should be inspected to detect excessive debris and mold growth.
Duct Repair
Your HVAC tech should review with you the findings of the duct inspection and recommend practical solutions to improve your home's efficiency and comfort. Following are some typical repairs and the materials used:
Duct leaks are sealed using mastic paste and metal tape.
Ducts in unconditioned spaces should be insulated.
If your ducts are contaminated with mold and/or debris, duct cleaning may be suggested.
To learn more or to schedule professional duct maintenance, contact the experts at Donald P. Dick Air Conditioning today.
Our goal is to help educate our customers in the greater Fresno, California area about energy and home comfort issues (specific to HVAC systems). For more information about duct maintenance and other HVAC topics, download our free Home Comfort Resource guide.
Credit/Copyright Attribution: "Lopolo/Shutterstock"