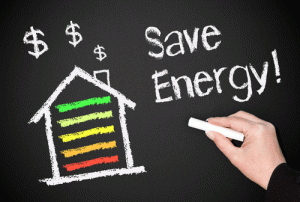 There are lots of effective ways to boost your home's overall energy efficiency, like weatherizing the exterior, installing extra insulation on the attic floor and upgrading to more efficient HVAC equipment. You can also improve efficiency by implementing the following strategies to save energy in each room of your home.
Kitchen
Always wash full loads in the dishwasher, scrape but don't rinse dishes and avoid the heated dry feature. Make sure the exhaust fan vents directly outdoors and use it when cooking to get rid of heat and moisture. Keep the refrigerator's coil clean to maximize its efficiency.
Living and Family Rooms
Switch on your ceilings fan in conjunction with the HVAC system and adjust the thermostat by about four degrees to conserve energy. Keep the damper closed on your fireplace when it's not in use, or install a chimney balloon. Have a programmable thermostat installed and schedule daily eight-hour temperature setbacks around your usual routine.
Bedrooms
To keep the HVAC equipment running efficiently and ensure balanced system airflow, leave all the bedroom doors open and don't close the supply vents in a seldom-used guest room.
Bathrooms
To curb hot water consumption and waste, get plumbing leaks fixed promptly and install low-flow fixtures and shower heads. When showering or bathing, run the exhaust fan to expel humidity and heat that increase the A/C's cooling load.
Utility Closet
Have the HVAC system professionally maintained annually, and make sure the blower unit and evaporator coil are cleaned and serviced during the visit. Flush the water heater every six months to clear sediment from the tank, and dial back the unit's thermostat setting to 120 degrees.
Laundry Room
Always run full loads in the clothes washer and switch to the cold water wash cycle. Keep the dryer lint trap cleaned out, and make sure the exhaust duct is attached securely and venting directly outdoors to properly expel hot, moist air. If possible, hang dry laundry rather than running the clothes dryer.
To learn more ways to save energy in each room of your Fresno home, contact Donald P. Dick Air Conditioning.
Our goal is to help educate our customers in the greater Fresno, California area about energy and home comfort issues (specific to HVAC systems). For more information about saving energy and other HVAC topics, download our free Home Comfort Resource guide.
Credit/Copyright Attribution: "docstockmedia/Shutterstock"