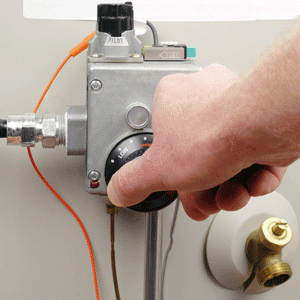 When you want to save money on your heating bill, you probably turn back the temperature inside your home at the thermostat. It's simple and it makes sense. The same logic can be used to save money with your water heater by turning back your water heater temperature.
In fact, you can save as much as 5 percent water heating costs for every 10 degrees you turn back the water heater thermostat. Considering that the average home's water heating bill accounts for up to 18 percent of total energy usage, there's great potential for saving energy and money.
Energy Star recommends setting the water heater to 120 degrees. Since most water heaters are set to 140 degrees from the suppliers, you can keep up to 10 percent of water heating costs in your pocketbook!
Turn Back Water Heater Temperature
Whether you have a gas or electric water heater, the process of turning back the thermostat is similar.
Your first task should be finding out exactly how hot your hot water is. Many thermostat dials don't indicate temperature. They generally indicate "low" and "high" settings.
Use a thermometer to test hot-water temperature at a faucet or tub. Let the water run for several minutes to heat the pipes.
Locate the thermostat dial on your water heater. For gas systems, the dial is located on the gas valve. For electric systems, the dial is concealed behind a panel near the tank's bottom. You may also have a second panel (i.e., second thermostat, dial, and heating element) located near the top of the tank. Remove both panels using a screwdriver.
If your dials use "low" and "high" indicators, use your best judgment when turning back the temperature.
Wait two to three hours to let the hot-water temperature inside the tank adjust.
Measure the hot-water temperature with the thermometer again.
Repeat these steps until your hot water is 120 degrees.
If you have questions about lowering water heater temperature in your Fresno area home, contact the professionals at Donald P. Dick Air Conditioning today and we'll be happy to help.
Our goal is to help educate our customers in the greater Fresno, California area about energy and home comfort issues (specific to HVAC systems).
Credit/Copyright Attribution: "Serenethos/Shutterstock"