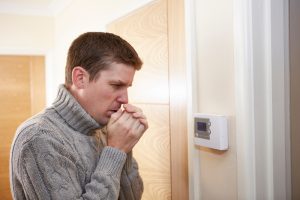 The cold weather we have been experiencing here in California has been pretty impactful. Everyone is bundled up and our heaters are running full throttle, especially when we are waking up to temperatures that are just a little bit above freezing.
It is understandable then why you would be annoyed if you turned on your heating system to defrost the house before you left for work and discovered it wasn't helping when you got home. Whether it isn't turning on at all or it is just blowing cold air around the home, a busted furnace isn't going to improve your comfort in the least.
But is it a repair call you should be making? Or is it time for you to speak with a trained professional about your options for a furnace replacement?
How Do I Know I Need to Replace My Furnace?
Your furnace heater should be a reliable, powerful and energy-efficient source of heat. So when it doesn't embody any of those characteristics what should your next course of action be?
Well first things first, you will want to figure out whether or not you should be considering a repair or a replacement for your heater. Signs that you should look into a  new furnace heater include the following:
The System is 15 Years Old Or More
The average furnace has a lifespan of 10 to 15 years of operation. A well-maintained system should be able to make it to 15 years with little trouble. However, after that many years of service, you will want to start looking into a new unit as yours is likely to start losing its efficiency and will eventually give out sooner than later.
Your Furnace Isn't Producing Heat Anymore
What good is a furnace that doesn't provide heat? If your furnace either isn't producing any warm air at all or it is blowing cold air (which still isn't helpful) you will want to reach out to a trained professional because it is likely that the system is failing and needs to be replaced.
The Repair Costs is More Than Half of the Cost of a New Heater
Furnaces will need repairs every now and again and in some cases, those repairs will be pricey. However, they shouldn't break the bank. A good rule of thumb to remember is that if you need a repair that is equal to or more than half of what it would cost for a new furnace, it is better to just opt for a new one.
Always Work With Professionals
So, do you think it may be time for a system replacement? If you aren't sure, or if you are, we can help. Our trained and certified technicians are ready and willing to assess where your furnace is at, and provide the best solutions possible whether that be repairs or a replacement.
We strive to provide honest answers and solutions to the problems our customers experience while remaining highly competitive in price, and offer the fastest turnaround you can find! Contact Donald P. Dick Air Conditioning for your next furnace service in Clovis, CA.