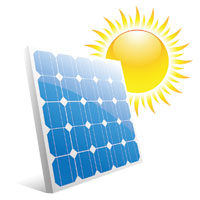 Homeowners in sunny regions can take advantage of both active and passive solar heating to keep their homes comfortable. Active heating captures sunlight, either as heat or electricity, to augment heating systems, while passive heating captures heat from the sun as it comes into your home through windows, roofs and walls to heat objects in your home. 
Passive Heating
The best way to take advantage of passive heating is to use materials with a high thermal mass. While sunshine can warm the air in your home, air itself has a low thermal mass. Some materials that can better capture heat include masonry products like ceramic tiles, stone, bricks and concrete. These materials absorb heat readily, and once the sun sets, they can radiate what they've stored.
Since the sun is low in the sky during the winter, using your windows to warm your home is an effective way to reduce some reliance you have on your heating system. Keeping your window coverings on south- and west-facing windows open is the best way to utilize passive heat.
Active Heating
Using active solar heating involves heating air, water, or creating electricity with photovoltaic (PV) panels. The panels should sit on your roof or on a sunny wall where they can collect heat and generate electricity to run a heat pump or power the blower fan of a gas furnace.
Air collectors work the same way as your car does when you leave it in the sun with the windows closed. The trapped air gets hot and the collector either blows the air indoors with an inline fan or uses the heat's convective properties to enter your home. Hydronic systems contain liquid inside an enclosed panel, absorbing solar heat and either sending it through a radiant heating system or a heat exchanger.
To learn more about the benefits of solar heating for your home, contact Donald P. Dick Air Conditioning. We provide exceptional HVAC and solar services for Fresno area homeowners.
Our goal is to help educate our customers in the greater Fresno, California area about energy and home comfort issues (specific to HVAC systems). For more information about solar heating and other HVAC topics, download our free Home Comfort Resource guide.
Credit/Copyright Attribution: "Cherkas/Shutterstock"