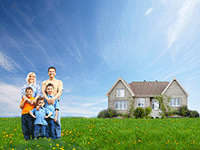 Did you know that the average person spends approximately 90 percent of their time indoors? This is a surprising statistic that has plenty of ramifications for your home, especially if your indoor air quality isn't up to snuff. Good indoor air quality is the hallmark of a healthy home.
A wide variety of airborne pollutants, ranging from pollen and pet dander to volatile organic chemicals (VOCs), viruses and bacteria, can contribute to indoor pollution that's several times higher than what you'd find outdoors. For this reason, it's imperative that you take the following steps to keep your home as healthy as possible:
Ventilation is the key: Fresh airflow can help push out stale, pollution-laden air from your  home. Achieving this is as simple as opening a window, although mechanical ventilation systems offer a more reliable way of obtaining fresh air.
Cut back on VOCs: Using low-VOC paints, sprays and other products can help reduce the prevalence of indoor air pollution.
Tackle mold and mildew head on: You can use disinfectant sprays to cut down on mold and utilize dehumidifiers to control excess moisture that may encourage mold growth.
Change that air filter: Your HVAC system's air filter helps trap airborne particles that might otherwise circulate throughout your home. However, it's important to change or clean your air filter at least once a month, otherwise you won't get the clean air benefits it offers.
Get the lead out: If you think there might be lead in your interior wall paint, don't hesitate to purchase a testing kit or seek the advice of a licensed lead risk assessor.
Vacuum carpets and rugs regularly: Vacuuming regularly can help trap dust and other debris found deep within carpets. It also helps control dust mites and other harmful contaminants.
The professionals at Donald P. Dick Air Conditioning can help you achieve a healthier home with our IAQ expertise. Contact us for all of your HVAC needs in the Fresno area.
Our goal is to help educate our customers in the greater Fresno, California area about energy and home comfort issues (specific to HVAC systems). For more information about a healthy home and other HVAC topics, download our free Home Comfort Resource guide.
Credit/Copyright Attribution: "kurhan/Shutterstock"