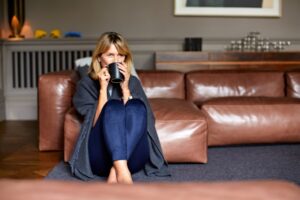 Things are slowly starting to get back to normal. You made plans to meet with some friends for a small Valentine's Day celebration. Nothing big, just catching up, exchanging some candy, and enjoying the ability to spend time together face to face.
As you are making your preparations though you notice that you've started to shiver and folding those cheesy cards has gotten harder because your fingers are frozen. You check the thermostat and see that the temperature setting is where it should be. You can hear the heater running too. So where is all that warm air?
Where is the Warm Air?
If you are discovering yourself in a similar situation as the one described above, you need to contact a professional for heating service in Clovis. To be blunt, something is definitely wrong with your heater. A professional technician like the ones on our team can get things running properly again.
While you wait for your technician to arrive though let's explore what might be going on with your heater…and figure out if you can prevent it from popping up again.
Your filter is seriously clogged. This is one of the most common issues we find when something is wrong with a heater's airflow. Filters capture airborne debris to keep it out of the interior of your heater. Over time all that debris can actually clog your filter to the point that it can't allow air into your system, an obvious problem. This is one of the many reasons we encourage people to change their filters every one to three months.
Something is wrong with one or more of the fans. You have fans in your heater that pull in air to be heated and push it out to warm the home. If and when something goes wrong with your fan, whether it is a broken fan blade or a bad blower motor belt, it will affect the airflow in and out of your system. Regular maintenance can help to catch issues in your blower fan or blower fan motor before they impact your comfort.
You have a ductwork issue. If you have a furnace or a heat pump, your heater uses ductwork to deliver the warm air that it creates. A problem with your ductwork can hinder that "delivery", leaving certain areas or rooms in your home cold and uncomfortable. Schedule duct testing to figure out if your heating issue is within your ductwork and we can provide duct sealing repairs from there to get things running right again.
There are plenty of issues that a heater can run into. With regular maintenance though you can keep these issues to a minimum. You can come to our team for everything needed to keep your heater running, including maintenance, repairs, and more.
We strive to provide honest answers and solutions to the problems our customers experience while remaining highly competitive in price, and offer the fastest turnaround you can find! Schedule your repairs with Donald P. Dick Air Conditioning.