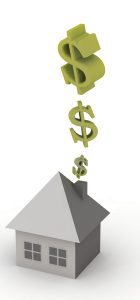 With energy costs being as high as they are these days, it is no big surprise that more and more homeowners are growing more and more interested in heating and cooling their homes with more and more efficiency. Now, there are many ways in which you can make major investments to boost energy efficiency in your home. Perhaps you'd like to switch over to a heat pump, or even integrate a solar energy system into your home. There are some simpler options worth discussing too, though.
We are more than happy to help you out with your solar energy system services or an upgrade to a high-efficiency HVAC system, of course. Today, though, we want to discuss some tips that will help you to easily boost your energy efficiency when heating and cooling your home. Major upgrades to your systems and your home will have great results,  but so will these suggestions from the Visalia, CA HVAC pros on our staff.
Reverse Your Ceiling Fans
We all know that ceiling fans are helpful in the summer season. While they do not actively cool the air in the way that an AC does, they help to keep cool air circulating throughout the house while also generating a comfortable breeze. Their use should not be relegated to the summer season only, though.
When you have to heat your home in the winter, be sure to reverse your ceiling fans so that they rotate in a clockwise direction. There is almost certainly a little switch on the body of the fan that will allow you to do so. By running your fan in this direction, you can force heat trapped up at the ceiling back down into the living space.
Use Your Curtains Strategically
Like ceiling fans, curtains are not just a stylistic flourish in your home. They are functional, and not just in helping to protect your privacy. By leaving your curtains open during the sunnier, warmer part of the day, you allow your home to gain natural heat naturally! Those sunny rays are good for heating the house, even when the weather outside is chilly.
You should also pull the shades shut at night. This will help to prevent heat from transferring out through your windows, resulting in more work for your heater. Consider investing in some heavier, high-efficiency curtains if you really want to use them to your advantage.
Schedule Home Performance Tests
If you know that your energy costs are getting out of hand, but you're not really sure what the cause of the problem is, then gaining that knowledge is definitely the first step in your quest for greater energy efficiency. Our home performance services, which include duct testing, blower door tests, checks of major appliances and HVAC systems, and ventilation testing will help to shed some light on the issues in your home.
While learning more about points of energy loss in your home won't automatically boost efficiency in your residence, it does give you the information that you need to go about resolving the problem(s). Feel free to ask us any questions that you may have about the home performance services that Donald P. Dick Air Conditioning has to offer.
We strive to provide honest answers and solutions to the problems our customers experience while remaining highly competitive in price, and offer the fastest turnaround you can find!